Saturday, 10 April 2021 at 7:00 AM to Tuesday, 13 April 2021 at 4:00 PM
Organiser: Hamish Edwards
The current plan is a hut bagging trip to some of the great huts that are an awkward distance into the Tararua ranges. The trip is quite weather dependent as there is a fair amount of walking on the tops but if you are interested feel free to suggest any other options of a similar tact.
Day 1: Leaving from the Holdsworth carpark on the 10th of april and walking over Powell to Mid Waiohine hut.
Day 2: Up the hill to Anderson memorial Hut (~5hr) or Nichols Hut (another 2hr) depending on weather/how we're feeling.
Day 3: Dropping down, crossing the Waiohine River and walking back up a spur to McGregor Biv, this involves a bit of calculated bush bashing and a creek crossing.
Day 4: Walking out over Jumbo to the Holdsworth carpark, with a possible side trip to see the Airplane wreck just off Angle Knob.
This trip will require a decent level of fitness, if you're not sure weather you are up for it; check the fitness tab under Trip resources on the website, email Hamish @ hemiphaga.h@gmail.com, or come and talk to one of our comittee members at the next meeting. 
Cost is to cover any group food and the cost of petrol.
Current spaces are limited to four but more can come if we find another car, bearing in mind some of the huts are small 6 bunk ones.
The current plan is shown below going clockwise: Blue leg = Day 1.
More details to come!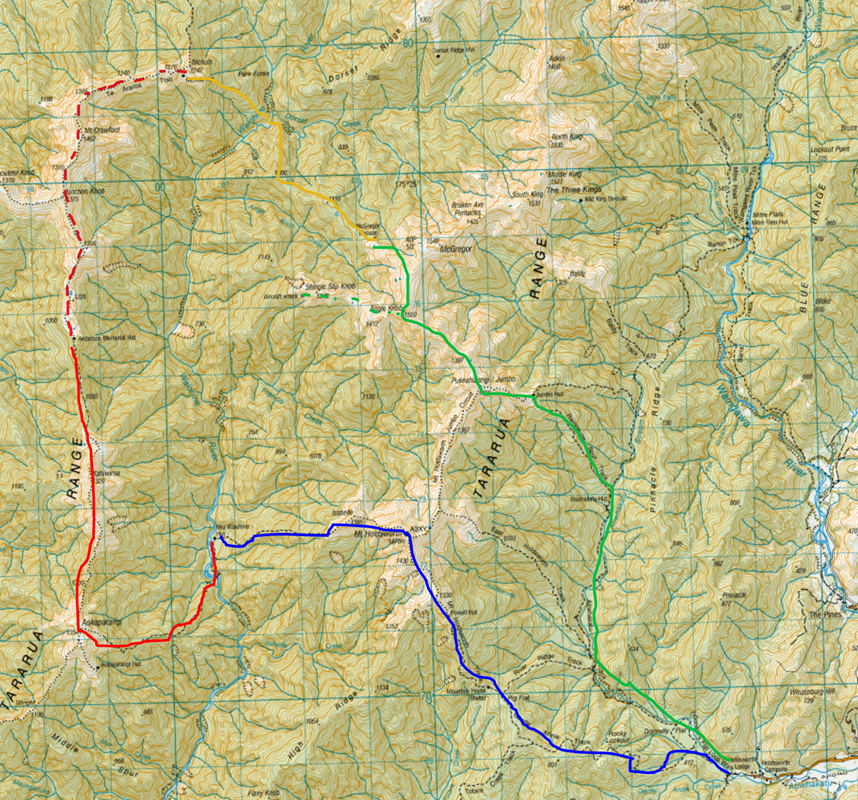 Reminder that the VUWTC has a Hut Bagging feature under the Trips tab for all club members! Start logging all the huts you've been to over the year, (disclaimer: it is a little addicting).
TBD
Login to see Trip Emergency Contact.
---
This trip has already happened!
---
2 people went on this trip