Saturday, 20 August 2022 at 9:30 AM to Saturday, 20 August 2022 at 3:00 PM
Organiser: Kathleen Griffin
The Ladylike Movement in collaboration with Winter Games NZ presents: Girl, Get After It! Hosted by Tūroa Ski Area. Saturday 20th August 2022 // 9:30am - 3:00pm.
"We're all about creating safe, encouraging and supportive environments for girls to get into the park, progress, have fun and shred together! So come join us, we've got an epic line up of coaches to be announced. Saturday 20th of August (Sunday 21st weather day) 9:30am - 3pm // $30 per person with proceeds being donated to Breast Cancer Foundation NZ"
The Ladylike Movement is very cool & doing this very cool event on Mt Ruapehu for wahine to learn some sick as freestyle stuff from some sick as world-class instructors. You don't need to know any park stuff but you must be comfortable riding a blue run (intermediate level).

I will probably be going & may have spaces in my car to take anyone else if they are keen, but come chat to me at a meeting or send me an email if you actually wanna come because we gotta sort logistics & I can be flexibile to suit others. 

Potentially just a day trip drive up around 4am & get home around 7pm
Alternatively could stay up at the TTC lodge on Friday night, or get an Airbnb or hostel or something ⛺️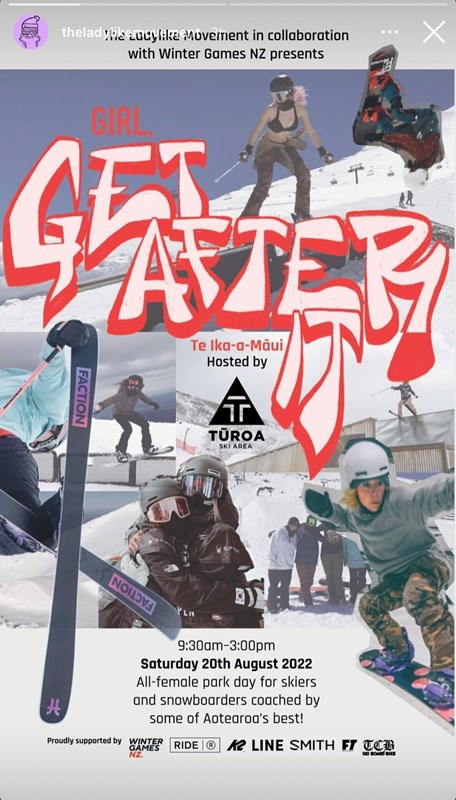 TBD
Login to see Trip Emergency Contact.