In 2021 VUWTC WAS going to be 100 years old! 
To celebrate we held a centenary dinner on Saturday 16th October in the Hunter Lounge. 
Included will be a banquet style dinner, dessert, a free drink and a reasonably priced bar. There will also be some presentations, but the main idea of the evening is to catch up with old friends, meet new ones, and enjoy a meal and a few drinks together.
Tickets
Tickets are required to help us cover costs and to know numbers for the dinner! The price is:
$50 for general entry
$25 for current student members
NB if you don't have a credit/debit card please email accounts@vuwtc.org.nz to arrange payment by bank transfer or cash.
Sharing the message
Please share this page with club alumni you know or are in contact with. With current COVID alert level 2 restrictions we have a capacity for 100 at the venue, so it would be great to see a good turnout! 

Alternatively you can also share our facebook event www.facebook.com/events/386679862760970
Other events
There has been some interest in having 'cohort' reunions of the people from particular eras of the club - to a large extent we expect that this will happen at the main event, but if anyone wishes to hold a separate event/catchup, perhaps on the same weekend they are welcome to organise it (and we are happy to publicise details of such events to attendees).

The other idea that has gained some traction is a family friendly picnic / BBQ / short walks, perhaps somewhere like Catchpool Valley, which could also happen on the same weekend (most likely the Sunday), weather permitting, and would be largely self-organised - BYO food etc, but we could help out with general organisation, car pooling and so on.

We'll keep you posted if/when any of this eventuates. Additionally if there are ideas / demand for (shock/horror) an actual centenary tramp (perhaps the figure '100' traced in the Tararuas to be unoriginal), then it would be neat to see that happen too. Contact us at 100@vuwtc.org.nz if you're keen to get involved.
Publication
A centenary publication is currently aspirational, but will hopefully happen if we find a willing editor. In the meantime, the first half has been done thanks to the efforts of Bryan Sissons et al in VUWTC '71 - the library copy has been digitised and is now available for your perusal at vuwtc.org.nz/about/history/vuwtc-71. Also see our club history page for more of a ramble through our digital archives.
---
For general enquiries email us at 100@vuwtc.org.nz.
We will keep this page updated with details and information as it comes to hand.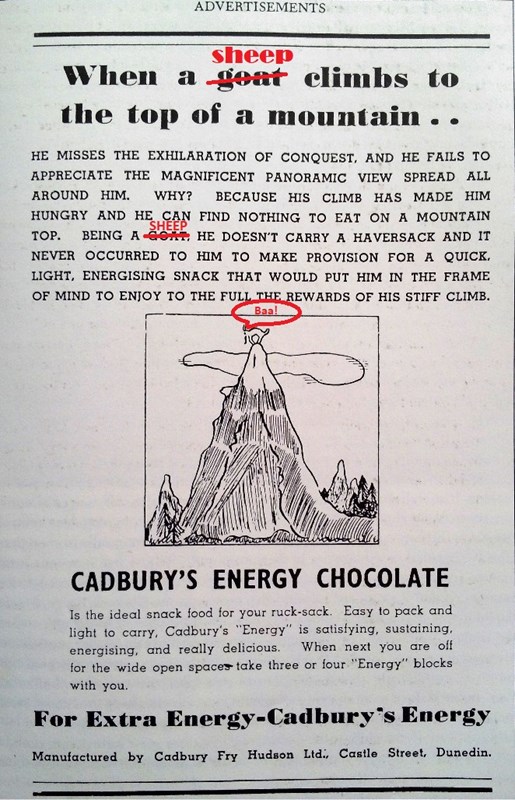 Yes there is some pretty blatant speciesism and sexism in the above ad from the post-war period that we take no responsibility for...