Friday, 17 July 2020 at 6:00 PM to Sunday, 19 July 2020 at 8:00 PM
Organisers: Davis Cooper, David Sik
BASIC TRIP PLAN 
(see map)
Friday: Either a camp at Poad's Road, or we can go up earlier on Saturday. Want to start walking reasonably early
Saturday: 
1-1.5 hour walk, 4km -- Poads Road to swingbridge
2-4 hour walk, 4km -- Swing bridge to North Ohau Hut. Walking along/in North Ohau River. Don't get cold.
2-4 hour walk, 5km -- North Ohau Hut to South Ohau Hut via ridge @865. Should be some sort of track there.
Stay at South Ohau Hut. 10 bunks, wood stove. Standard hut (don't forget your tickets/pass!!!!)
Sunday:
5-7 hours, ??km -- South Ohau to road end via Butcher Saddle and Gable End ridge.
15 min, 10.7km -- Poads Road to KFC Levin. 10pc bucket.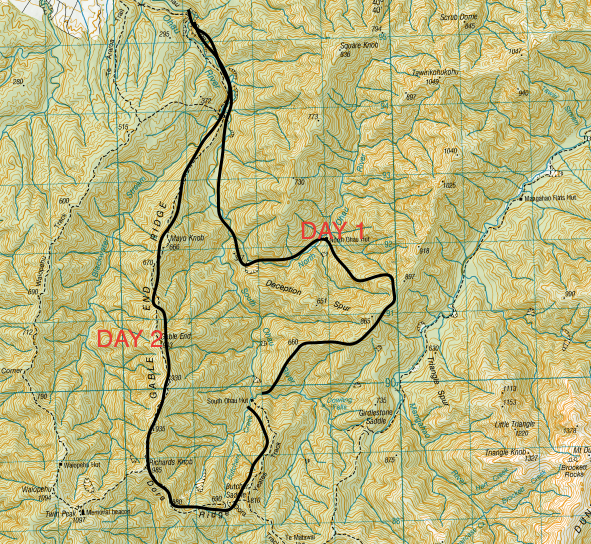 There are quite a few of you who have signed up. Not sure how many is too many, but I'll see if I can't get another, perhaps easier, trip going out the same weekend. Watch this space.
Plan subject to car availability/weather/fitness/personal caprice. Register your interest below!!!!11!!!!
TBD
Login to see Trip Emergency Contact.