Saturday, 8 August 2020 at 6:00 AM to Sunday, 9 August 2020 at 6:00 PM
Organiser: Ryan Corke
Haven't got around to organising your weekend? Study driving you mad/looking for another distraction? well come join me on a overnighter to Neill Forks hutt this weekend!!
I am allowing for 6-7hours of steady hiking on tramping/rougher tracks. This will be a Medium-Hard tramp so you will need to have moderate fitness. Will take my car for transport.
Plan of attack: (this is my first tramp that I have led so I am being very generous with times..) (map below)
SAT 8th. Route A (Red) (~6-7hrs)
 meet 0630-0645 at the Hunter lounge carpark. gear checks. If you are missing anything vital I may have to leave you behind sorry!
0700. Drive to Waiohine Gorge carpark.
0830 arrive at  waiohine.
0840 begin, heading up to Cone peak via Cone saddle, and along cone ridge to Neill forks
1430-1530 (pace dependant) Arrive at Neill forks hutt! :) 
SUN 9th: Route B (blue) back out via Totara Flats. (~8hrs)
0830-0845 leave the hutt,
10:30 reach Cone ridge
 1200 Totara flats hutt for lunch
16:30-1700 arrive back at the car. back at Hunter lounge Approx 1830
GEAR: Refer to the OVERNIGHT gear checklist as to what you will need to have. You will need hiking boots Cant emphasise the importance warm gear (BEANIE, GLOVES, FLEECE, Rain JACKET) and as all ways NO COTTON :) 
I will bring a billy and Cooker for communal Dinner and oats for breakfast. 
FOOD: Communal Vegan curry and oats for Sunday breakfast. If your taste buds dont like this sound of this/or you want to do your own thing, thats fine just let me know.
BYO Lunch, snacks and Beverage (if thats your thing)
COST: for fuel and communal food will roughly be between $15-$25 dependant on numbers... (excluding your own lunch, snacks, and HUTT Ticket cost) 
Hutt Ticket: You will need to purchase yourself a Standard $5 hutt ticket, from Most outdoor shops. Let me know If you cannot do this by Thursday. https://www.doc.govt.nz/parks-and-recreation/places-to-stay/stay-in-a-hut/booking-and-paying/backcountry-hut-ticket-retailers/#wellington-kapiti
Questions: If you are unsure about anything please email me, And I will be at the VUWTC evening meeting tomorrow Night (tuesday) 
Hutt. https://www.doc.govt.nz/parks-and-recreation/places-to-go/wellington-kapiti/places/tararua-forest-park/things-to-do/huts/neill-forks-hut/
MAP: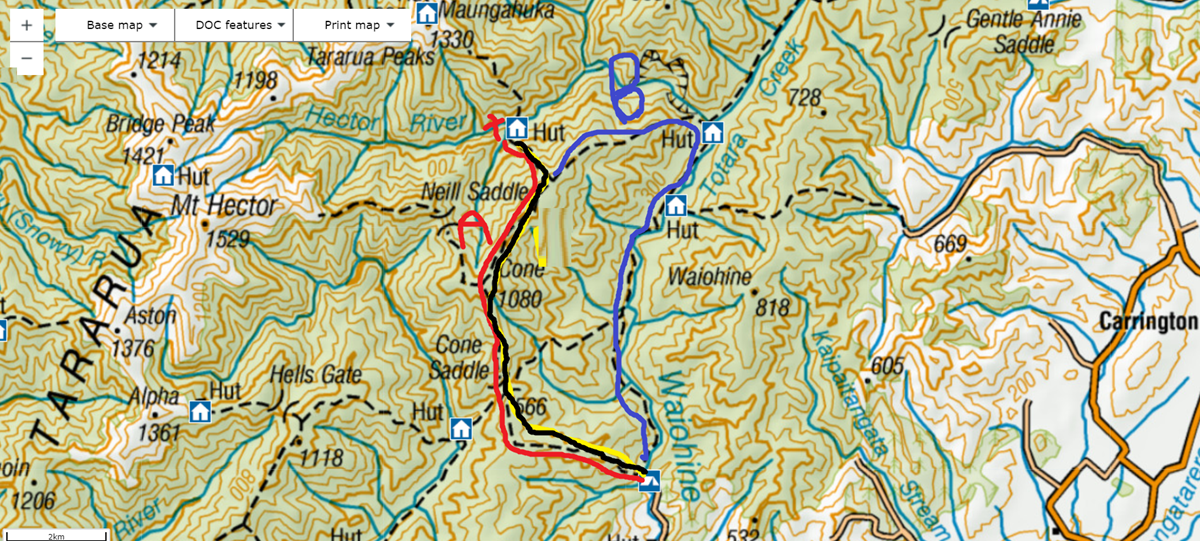 .
$25.00
Login to see Trip Emergency Contact.
---
This trip has already happened!
---
No people went on this trip