Thursday, 25 November 2021 at 5:00 PM to Sunday, 28 November 2021 at 5:00 PM
Organiser: Colan Balkwill
This will either be a 2 or 3 night trip, depending on weather and how much time you lovely people can get off.
My last trip to Maungahuka was a bit of a slog over Concertina Knob, at night, in the snow (I'd better mention the full moon and hanging out above the clouds before you feel too sorry for me). This time around I'm keen to go at it from the other side, taking in some of the hairier bits on the peaks (including that ladder!).
The plan:
For now, heading up Thursday afternoon with an afternoon/night hike to Kime Hut, sleeping in a little, moaning about how heavy our packs are before taking the adventurous route over the tops to Maungahuka. You'll need to be sure footed and have a head for heights! Depending on how we're feeling the next day, the weather, etc. we can head over the tops to Waitewaewae Hut or drop down to spend the day and night at Penn Creek. Likely the later so we can visit one our wonderful club maintained huts (hopefully freshly painted Amon) unless we're feeling really strong with blue sky weather.
An alternative for a 2 nighter are heading up early Friday and doing a long day directly to Maungahuka, or Friday evening and doing the long day out via Penn Creek on the Sunday.
Topo and elevation profile of Kime-Maugahuka-Penn Creek loop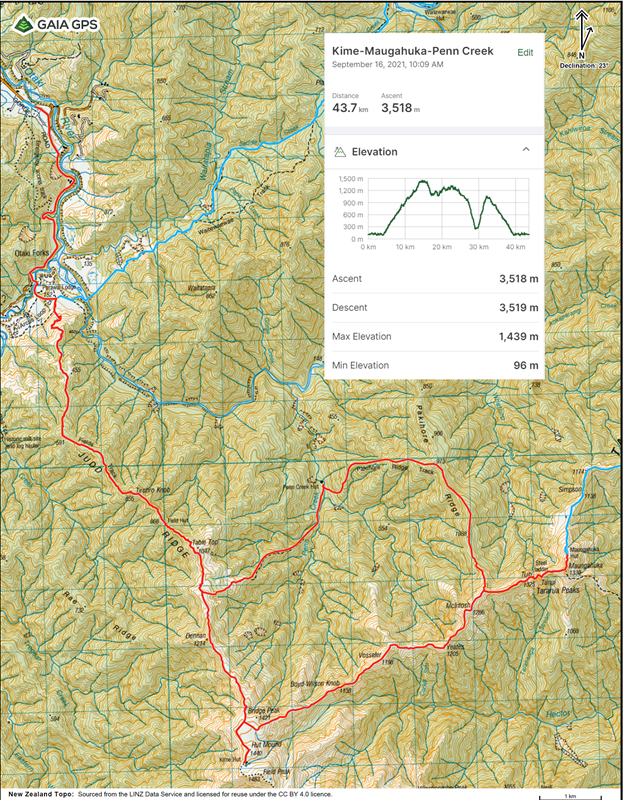 Is this for you?
We'll be on the tops so the route will be very weather dependant, but we may get wet and it may get windy! We'll make the final call closer to the time, but not planning to go at it if the forecast is looking hairy. The tops can be slow going and pretty exposed and the tracks are steep and rooty. Not Great Walk standard, but should be a really great walk (the cheese, I know). We'll also be doing some good elevation gain and loss (about 3.5km or 17 Mt Vics!), so this will be a reasonable tough walk, especially if we do it over 2 nights. Please chat to me or Kathleen if you have any concerns or are unsure if this trip is for you :)
What you'll need:
Check the multi-day gear list and let me know if you're missing anything. Packing light will be good. We'll do a gear check before we set off. We can work out breakfast and dinner as a group, snacks and lunches will be all yours to dream up solo. You'll need 2 or 3 $5 tickets depending on which option we settle on.
TBD
Login to see Trip Emergency Contact.
---
This trip has already happened!
---
7 people went on this trip