Sunday, 7 August 2022 at 9:00 AM to Sunday, 7 August 2022 at 6:00 PM
Organiser: Alex Monckton
Hey guys!
This weekend I have an exciting day trip planned out at Remutaka Hill to check out some of the famous Remutaka Rail Trail!
(Spooky long rail tunnels guaranteed)
The weather is looking promising so should be a good trip!
THE PLAN:
Meet at Hunter Carpark at 9am to be ready to leave 9:10

Park and start walking around 10, what we'll probs do is take Collies track down to Ladle Bend, then there are a 

couple options to get to the Summit picnic area.

Check out the old station, scrapyard, and 600m long Summit tunnel 👀. Walk to the end of it and back, maybe walk all the way to the Siberia Gully lookout (there's apparently a cool swing bridge, who doesn't love a good swing bridge?)
Find our way back roughly the way we came (again a couple different routes available - see map below). The Summit could be a good lunch spot and if the weather's good we can stop for a dip in the river
Once back at the cars if people are keen we could do the quick 20min climb up Remutaka Trig to catch the sunset and some sick views
WHAT TO BRING:
Food + water

Torch for the tunnels

Togs if you might be keen for a swim
Warm clothes (could be cold and windy up the trig)
Sign ups are only limited by the number of cars we have, I will update accordingly :)
Cost will just be fuel money for the drivers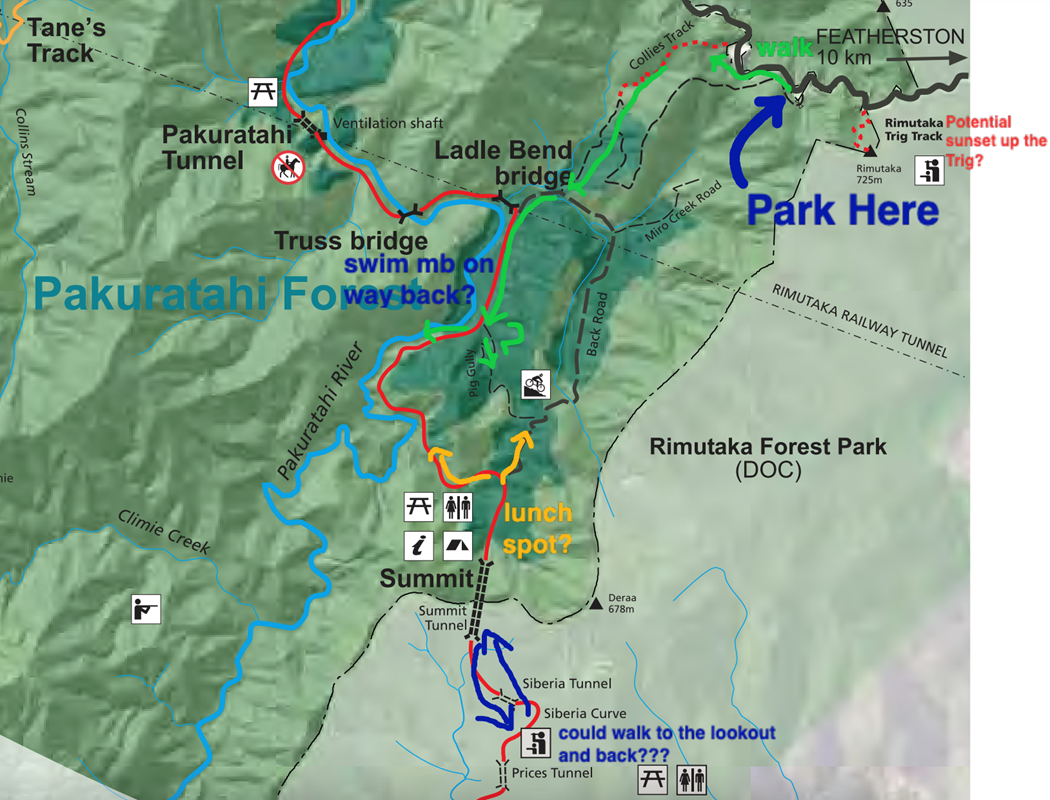 TBD
Login to see Trip Emergency Contact.
---
This trip has already happened!
---
10 people went on this trip