Monday, 26 December 2022 at 11:00 AM to Wednesday, 28 December 2022 at 7:00 PM
Organiser: Chris Russell
So my Dad wants to go to Taupo and use my car but he has kindly offered to drop us off somewhere on the way and then pick us up on his way home. This means we have the opportunity to do a point to point tramp, rather than a loop! I thought this would be a good chance to explore the Hauhungaroa range / Pureora forest which is somewhere I've never been.
The plan:
Friday leave the hunter carpark at like 3pm at the latest. Drive to the start of the Waihaha track on SH32 which will take about 5 hours. Walk for 3 (DOC time) hours to Waihaha hut in the dark (bring head torches and spare batteries!). We will get takeaways on the way up of course.
Saturday walk 8.5 (DOC time) hours to Bog Inn Hut.
Sunday walk 3.5 (DOC time) hours to where the Mount Pureroa track meets link road where my Dad will pick us up (link road for some reason exists on topo maps but kind of disappears on google maps, but DOC is sure this road exists). Then we drive back home yay
We would only be taking my car otherwise things get complicated and Bog Inn Hut only has 4 bunks anyway.
Food would be do your own thing.
Could be pushed to the weekend after if the weather is bad.
This is like a medium - medium hard trip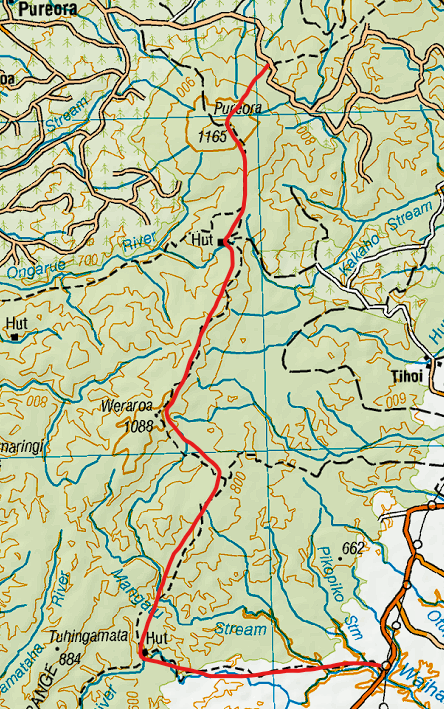 Edit: Postponed to 16th because of bad weather
Edit: Postoned again because of bad weather, Jan the 13th-15th is a rough date we could maybe try again 
Edit: Gonna try do this just after christmas??
TBD
Login to see Trip Emergency Contact.
---
This trip has already happened!
---
2 people went on this trip