Saturday, 24 June 2023 at 8:00 AM to Sunday, 9 July 2023 at 5:00 PM
Organisers: Jackson Brown, Kate Morris, Kathleen Griffin, Lilly Merrall
EDIT: this trip is now full :)
Welcome to the giant Queenstown Midwinter! This trip is a combination of a tramp in week 1 (run by myself, Kate and Jackson) likely on a great walk, and a tramp in week 2, run by Kathleen. 
The ideal week 1 tramp would be a Great Walk (Routeburn, Milford, or Kepler) if the avalanche risk is low enough, otherwise something like the Greenstone track or a couple of days of the Hollyford. tbd. 
Jackson and I (Lilly) are driving down - join us for a very long drive and some mean as tramping!!! : )
Please note - all trip attendees will need to have done a Snowcraft, AIC, or comparable course/experience. We will be walking through avalance paths and across apline terrain so attendees will be decided based on ability, not first-in-first-served. 
Another please note - Costs are subject to change as we haven't confirmed our accommodation. Because we're frugal trampers, we will be doing this on the cheaper side, but monetary number is tbc. Please also factor in city food and any activities you'd like to do in Queenstown, it's a mean as place and there's heaps to do. 
Saturday 24th June
8:15am ferry leaving Wellington
Arrive in Picton around 11am (ideally but you never know with Bluebridge!)
Drive to Christchurch (4.5h)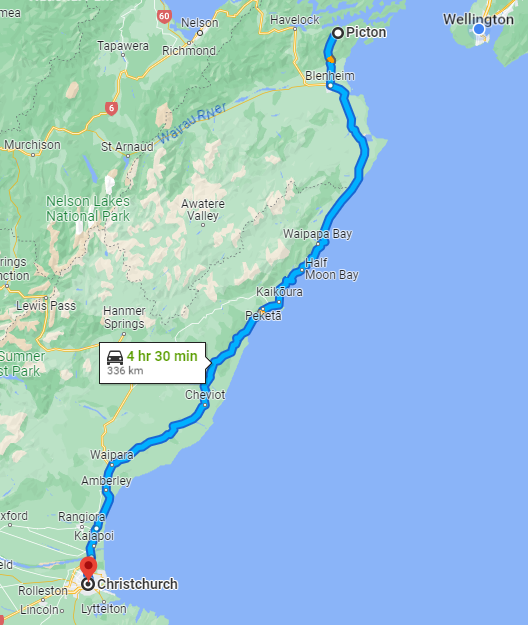 Arrive in Chch and stay that night there. This night will likely be everyone sorting their own accommodation as a lot of people have family or friends in chch.
Sunday 25th June
Drive to Queenstown (6h). 
6hours is a long time to be driving so I reckon we sleep in Qtown that night, or start a tramp where the first day is small. If we leave chch at 8, we'll arrive in Frankton at 2-3pm. We'll be joined by another car load of people who have coordinated with Kathleen to fly down and meet us there.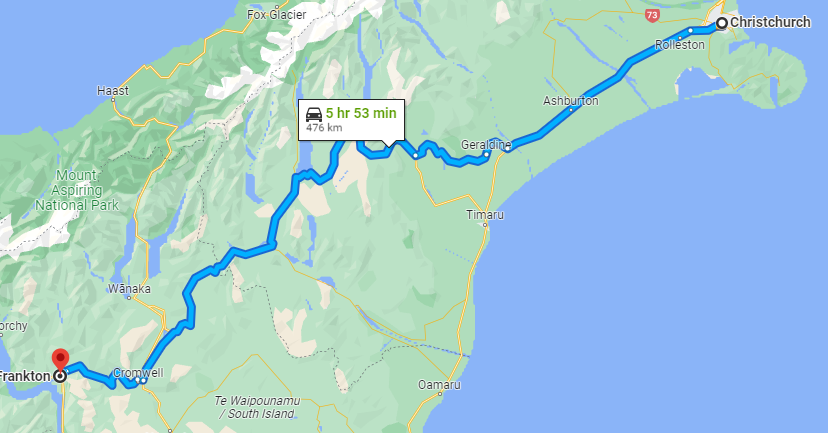 We also need to figure out where we'll bretramping this first week, and where we'll be sleeping after this. 
Monday 26th – Thursday 29th
Tramping somewhere. Likely the Kepler or Routeburn. This is heavily dependant on the weather and will be decided closer to the time as both of these pose avelanche risks.  
May to October (winter season): Kepler Track (doc.govt.nz) 
Kepler Track: Fiordland National Park, Fiordland region (doc.govt.nz)
Friday 30th June
Rest day. Get prepped for the next tramp. Buy food, gas, beersies, probably carb up too lol. 
Saturday 1st – Tuesday 4th 
Kathleen's mean as Mt. Aspiring takeover trip. See her website trip below \/
https://www.vuwtc.org.nz/Event/8787
Wednesday 5th - Friday 7th 
Rest days, tourist days, skiing days. Accomodation down there to be sorted once we have trip attendees confirmed. 
Up to you what you do for activities, just find a car and coordinate with them. Ik Jackson will likely Ski, I might ski one day and do tourist things the rest. The Queenstown is our oyster!
Saturday 8th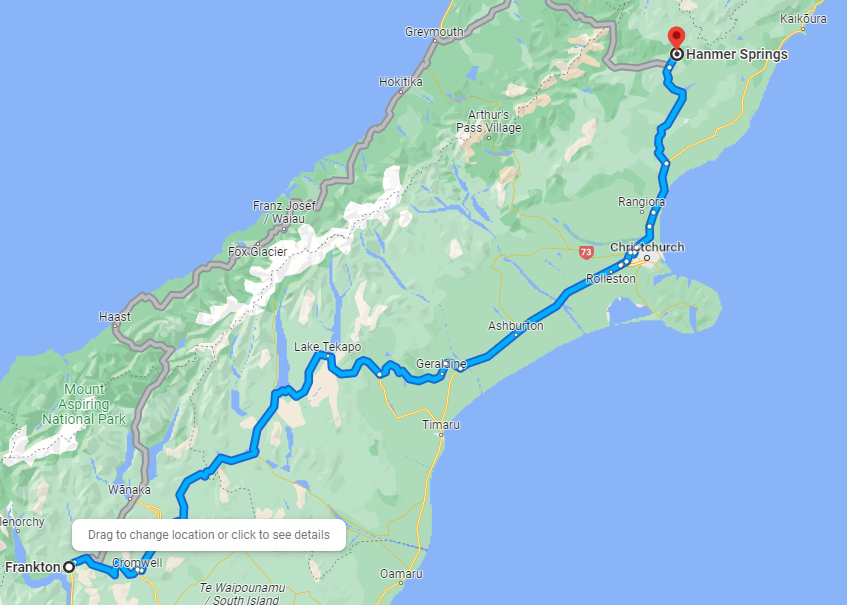 Yuck it up to Hanmer. The drive will take 7.5h. If we leave at 8, we'll arrive around 3pm. Pools shut at 7pm, Spa shuts at 6pm. Depending on how late in the day we arrive will depend on whether or not we get Springs tickets or not as they are only for the full day and would be a bit of a waste to buy a ticket for only 30 seconds. 
Experience Hanmer Springs | The Pools | Hanmer Springs Thermal Pools and Spa
There are lots of accommodation options in the town, could do a top 10 holiday park. Flexible. 
Sunday 9th July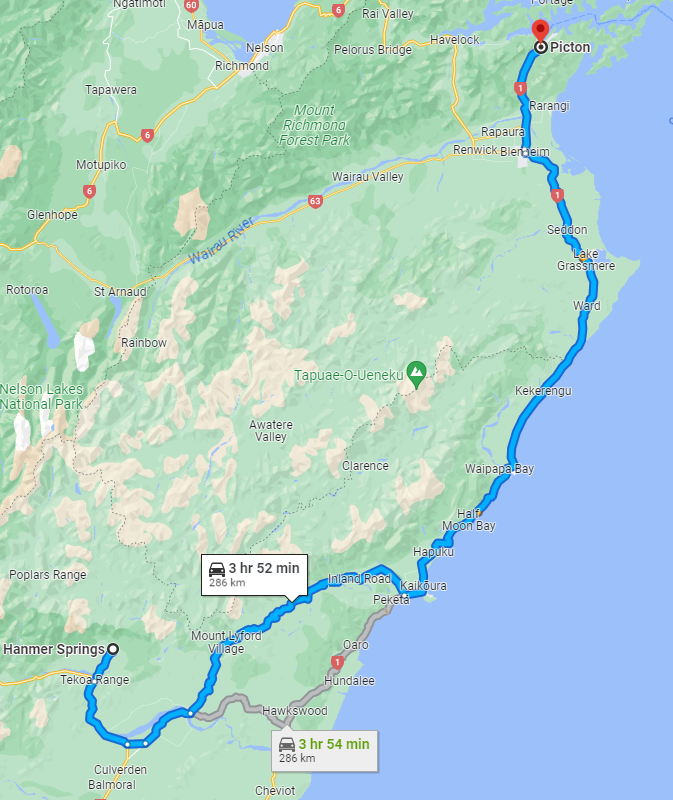 Leave Hanmer at 9am at the latest. Hippity hop on the 2pm ferry. 2pm is preferred to the later ferry as we'll have time to drop everyone and get ready for work the following day (yay…)
Prices
Ferry trip with car = 397.10 x 2 directions = 794.2 / 5 people = 158.84pp for both directions
Fuel from Picton to Frankton via Chch = 190 / 5 = 38pp
Fuel from Frankton to Picton via Hanmer = 207 / 5 = 41.4pp
+ ~$15pp to account for travel around chch and queenstown, travel to and from the road ends, various runs to the fish and chip shop. 
Total transport costs = $253.24
Accommodation
BYO accommodation in Chch. Eg stay with family, couch surf, backpackers. I'll be staying with family but happy to drop people to their own accommodation within the chch city area. 
Accommodation in Qtown is TBD
Accommodation in Hanmer will be whatever we decide. I imagine a bed at a backpackers will be $40. 
Food
Please pack tramping food with you in your bag - I doubt we will have time to shop for tramp food on our journey down the island and it would be one less thing to worry about.
Food outside of tramps can be sorted at our respective accomms. I suspect it'll be a lot of convenience food lol. 
Food on Kathleen's tramp tbd by her. 
TBD
Login to see Trip Emergency Contact.