By Kathleen Griffin, 03 November 2022
November 4-6
Kathleen Griffin, Alex Monckton, Tommy Thomson, Daniel Hunsche
It was 7:30pm on Friday when we started walking towards Mitre Flats Hut from The Pines. It was still light outside, but the sun was definitely on its way down. Unfortunately the first half of the walk is mainly on a gravel road, so we had the last rays of the spring sun lighting the way for that section, but by the time we got into the bush (where we would actually need our vision), we were basically in darkness. It was a clear night, & just shy of a full moon so there was light coming through, but not enough to penetrate the dense foliage above us. Regardless, Tommy insisted on walking without a headtorch for most of the way. When he did finally concede defeat, he realised he didn't even bring his headtorch so he was walking by phone torch the rest of the way anyway. Last time we had walked to Mitre Flats (also in the dark), Daniel had recorded the walk on his Garmin, which showed the distance to be 10km instead of the signposted 8km. This meant that we were delightfully surprised when after only 8km we made it to the bridge right before the hut. We were the only ones there so spread out across the bottom bunks for our snooze. Daniel cooked a second dinner before going to bed, & Tommy finally got to eat his nutritional dinner of potato chips. 
Since we'd already done the drive & walk to Mitre Flats on Friday night, we could take it pretty easy on Saturday morning. We ate some kai, packed our bags & we were on our way. The track up to Mitre peak starts of relatively steep before flattening to a lesser gradient for about 1km. Then returns to a bit more of a climb until we reach the edge of the bushline. After only 30 minutes of walking Daniel was already complaining of feeling tired. This was mildly concerning considering we had barely left the hut, but we encouraged him to continue onwards. After another 15 minutes he was adamant that he could not possibly continue on & needed a break immediately. We sat down & after learning that he only ate 2 minute noodles for breakfast, I encouraged him to have something else to eat. A quick snack break of a musli bar, some chocolate, & a questionable chicken sandwich (he left it in his hot car all day Friday), we were back climbing. Daniel offloaded one of his water bottles to Tommy & was a bit more energised after a feed. We had 400m of height to gain before reaching the bushline but surprisingly we did this with relative ease. The rocky section has no real track (but plenty of cairns) so we all just ambled up as a loose gaggle. It was getting close to lunch time & poor Alex had just got new retainers so was unable to snack at the times we had stopped. We found some decently flat ground & sat down for a proper meal.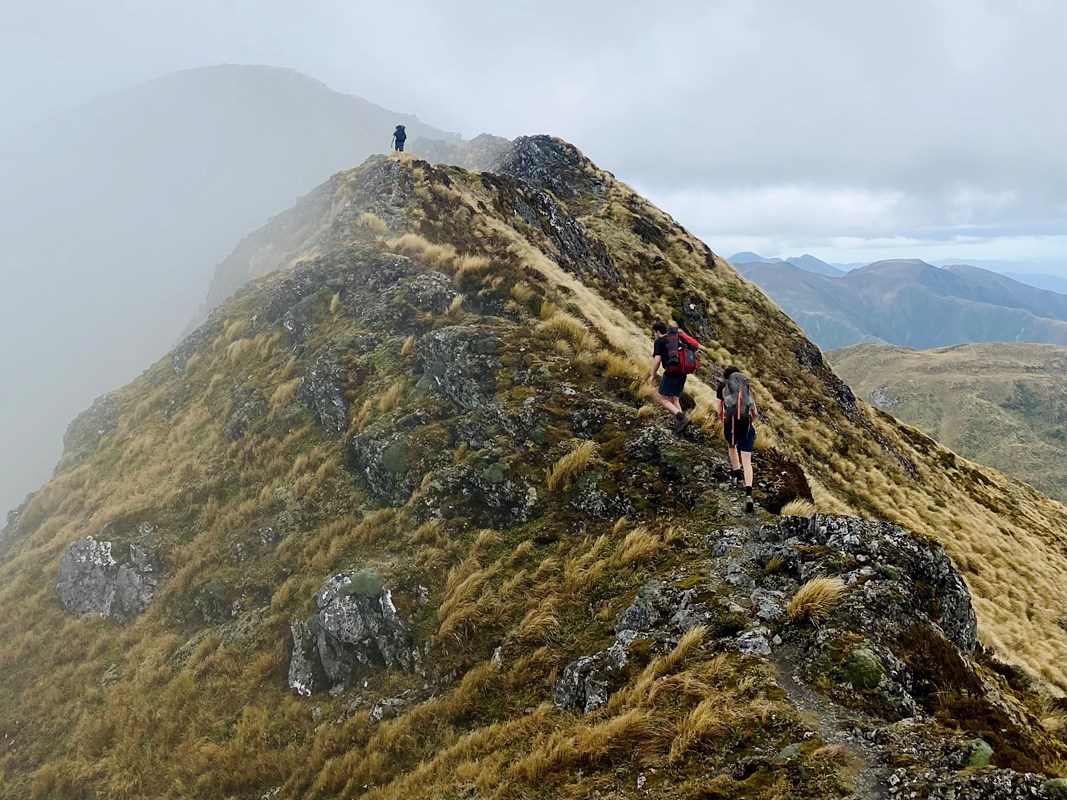 The walk from here up to Mitre Peak is pretty straightforward. It soon becomes less rocky, with a more defined track through the tussock. We reached Peggy's Peak at 1:30pm & Mitre Peak not long after. We had a mixture of low cloud sitting in the western basin, & high cloud across the rest of the tops. We had a decent view at the summit, so of course we stopped for another snack break. The descent from Mitre towards Brockett & Table Ridge was a little less straightforward. It's a very steep decline that involves a lot of clinging to the rockface & putting faith in stones you have not yet stood on. I would not recommend this route for anyone afraid of heights. For some reason I was leading the way (despite having by far the shortest legs), but we all made it down safely. We then immediately had to start climbing again to get up to Brockett, followed by another descent, & yet another ascent to Girdlestone. That was pretty much the last of our ups & downs, the rest of the walk was "relatively" flat along Dorset Ridge. Daniel was still feeling a bit worn out from his first ever hike along the tops, so he opted to stay with the bags while Alex, Tommy & I did a quick detour to check out Tarn Ridge Hut. I had read a trip report saying it takes about 25min to get from the main track to Tarn Ridge Hut, so we basically ran along the ridge (so Daniel wasn't left waiting) & got to the hut in 6 minutes. We had heard that the hut was water damaged after a storm rolled through, but we wanted to check out the extent. One side was very damaged, including the mattresses that were covered in mould & falling apart. However, the other side still seemed to be in good condition with half the bunks still usable. The DOC website says the hut is still open but "unsafe". The hut would still be usable (although not to its full capacity), if it weren't for the fact that the tap on the water tank is broken. Luckily some helpful hikers have filled containers with water, but probably best not to rely on those being available upon arrival. We signed the hut book & headed back along the ridge to find Daniel.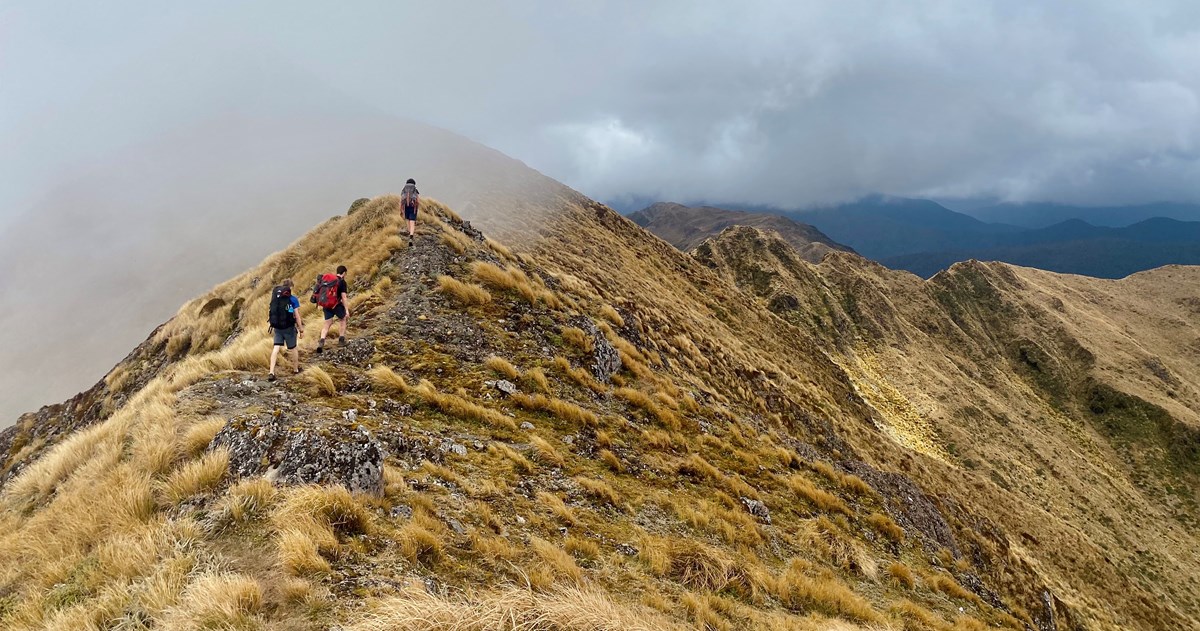 We continued along to the Dorset tarn, unfortunately it was cloudy when we reached it, but we would be returning the same way tomorrow when the forecast was a bit clearer. After climbing peak 1531 (which we named Dorset Peak), the ground plateaued out & we just had to find the spur down to Dorset hut. We paused in reconnaissance & a quick map consultation, then we beelined through a swampy area to something that vaguely resembled a track. Tommy was leading the way through the thick tussock & other spiky bushes that cut up our legs. Eventually, after 5hrs of walking from Mitre Flats, the hut came into sight. Perched right on the edge of the bushline, Dorset ridge is commonly used by hunters with the occasional trampers visiting. The hut book was fairly empty & dated back to 2012. Of course not everyone signs the hut book, but we could definitely see trends of increased hunters during the roar, & more visitors hiking in over the summer - usually coming in the way we did, or up from Dorset Creek. Since we were right on the bushline, there was a fireplace which Daniel & Tommy were keen to get going. Disaster struck while breaking some twigs, a rogue stick flew from Tommy's hands & piered the inside of his mouth. Despite blood dripping everywhere, Tommy wasn't too phased by his new lip piercing & declined our offers of tissue paper or a PLB helicopter ride home. We cooked up some dinner, did wordsearches & read through the books in the hut. We tried to get an early night, but I know the squeaky bunks were keeping a few of us up.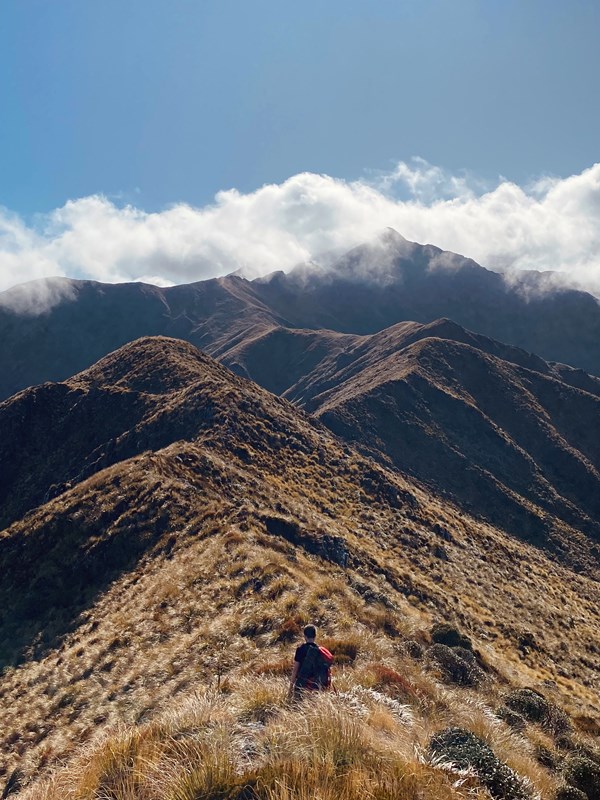 Sunday morning Daniel's alarm woke us up bright & early, I had agreed with Daniel that we would set off earlier than Tommy & Alex since they both walked faster than us. The least enjoyable part of this entire trip was probably walking up the spur from the hut to Dorset Ridge. Like I said previously, there wasn't really a track & we were basically just wading through differnt bushes, cutting our legs. It was slow, painful & not exactly a fun start to the day. Spirits were a lot higher once we got on to the ridge, it was a beautiful day & up ahead we could see most of our route for the day. The walk was lovely, to our right we could see the Kings & McGregor, & to our left we could see to Carkeek & beyond. Every now & then I would check behind us to see Tomy & Alex silhouetted on the hills in the distance, slowly catching us. I managed to persuade Daniel to try & make it to the tarn to have a snack break there, but it's possible that I was deliberately ambiguous about which hill it was "just on the other side of". We made it to the tarn pretty much right as the others caught up to us. Despite it stil being early Spring (& not very warm) Tommy was keen to go for a dip. This tarn was at least a bit deeper than some, so he was able to fully submerge himself.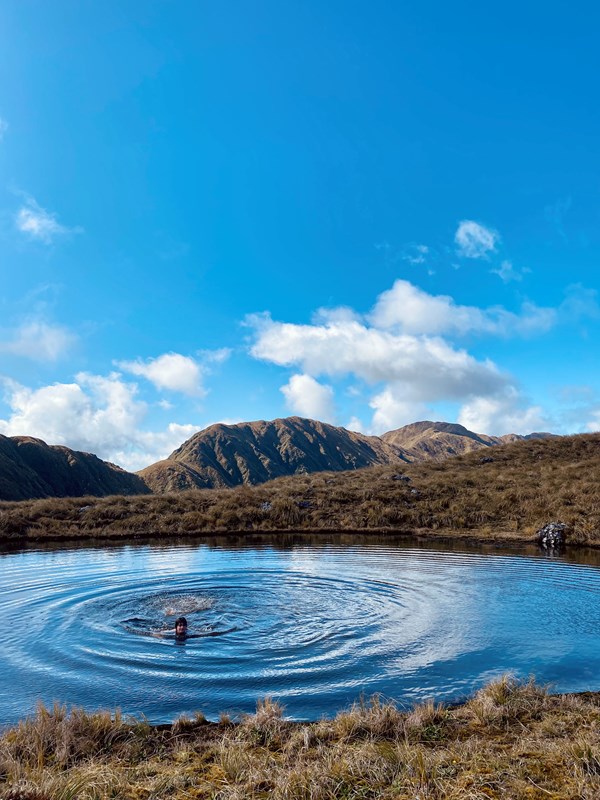 The group contininued onwards with Girdlestone being our next checkpoint. Mitre is the highest peak in the Tararua Ranges at 1571m, but Girldlestone is the second highest at 1546m, & we were approaching it from 1300m so it definitely warmed us up a bit after the stop at the tarn. One slog later, we made it to the top & of course, had another snack break. The sun was really shining down on us now, although nobody mentioned sunscreen (mistake). We had signal for the first time in a while so we all messaged our mates to let them know we were still alive & share some scenic snaps. We wanted to make it to Mitre for lunch, & it looked much more within our grasp now that we had gained most of our altitude, Brockett was the only thing standing in our way. We trotted along the ridge, a bit closer together this time, & able to chat without being out of breath. Tommy & I had spent most of Saturday's walk panning a future trip where we would bag all the huts in the Tararuas in one weekend. This was definitely on my mind for most of the weekend, trying to figure out the most efficient & interesting routes. I enjoyed discussing it with Tommy as we walked, & trying to visualise the routes on a map in my head. Before I knew it we were at the base of Mitre. All we had to do now was walk (climb) to the summit, & it then it's pretty much all downhill to home from there. Climbing up was probably easier than going down, we didn't have momentum in all of our movements so we could step a big more gingerly. There was only one time I stood on a rock that moved under my feet, & I had a good grip on another rock so all was okay. Cresting the top was somewhat anticlimactic, as the summit was still fairly cloudy. Regardless, I was keen for some tuna & corn thins so I found a comfortable enough rock to relax on for a bit.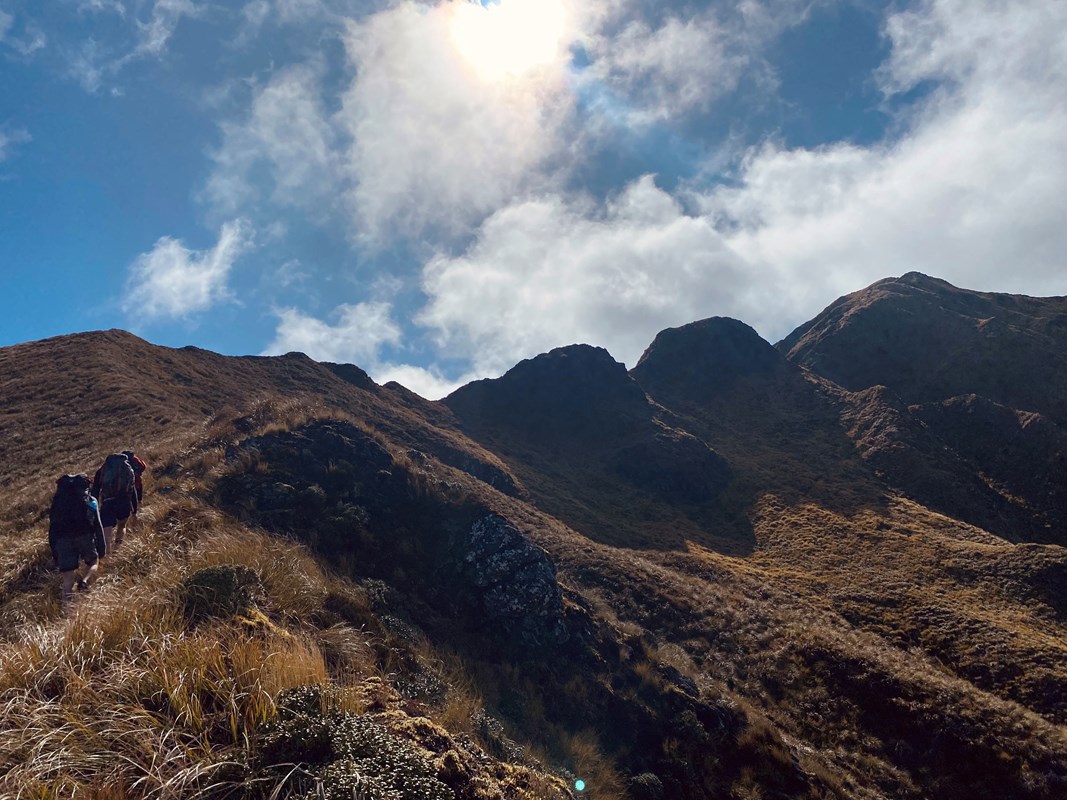 Heading down Mitre was a decently quick mission. After sliding down Taranki scree a fortnight ago, this felt a lot easier so we carried good pace. Despite having a skiing knee injury & the shortest legs, I found myself at the front again. We met a couple who had stopped for a snack just below Peggy's Peak & I did freak out a little when they said "The Remutaka Hill is closed". Luckily that was followed by (a very delayed, given the direness) "at 9pm". Unless something unpredictable happened, we planned on being over the hill & deep in the Hutt Valley around 6pm. We continued descending & made it back to the bushline before our next snack break. We were all keen to get back home so we kept the break short & continued powering down the hill. Nearing the bottom we were all starting to feel our joints a little. Once we returned to Mitre Flats we decided that we didn't actually want to get home that fast, & would rather stop for a decent length break. We filled our water bottles, went toilet & ate the last of our snacks. The break did us well, we were pretty chipper for the first half of the walk back along the Waingawa river. As predicted though, the longer we walked the more keen we were to just be at the car. This section of the walk was definitely the least interesting, not to mentione we were all starting to feel a little tired after walking more than 40km throughout the weekend. I developed a minor headache near the end, but i knew we weren't too far from the car so just had a brief stop to gulp some water down. 4:30pm we made it to the road walk, & this section flew by. We could walk a lot faster on the gravel, & we even met a few puppies walking the other way. Finally just after 5pm we made it back to the car. That day we had covered 21.35km in just under 7 hours.