By Jack Huygens, 06 April 2023
VUWTC: Patrick, Joe, Jack, Chris
AUTC: Teresa, Reinhard, James, Jack, Holly, Colter, Chris, Beryl, Allan, Alexis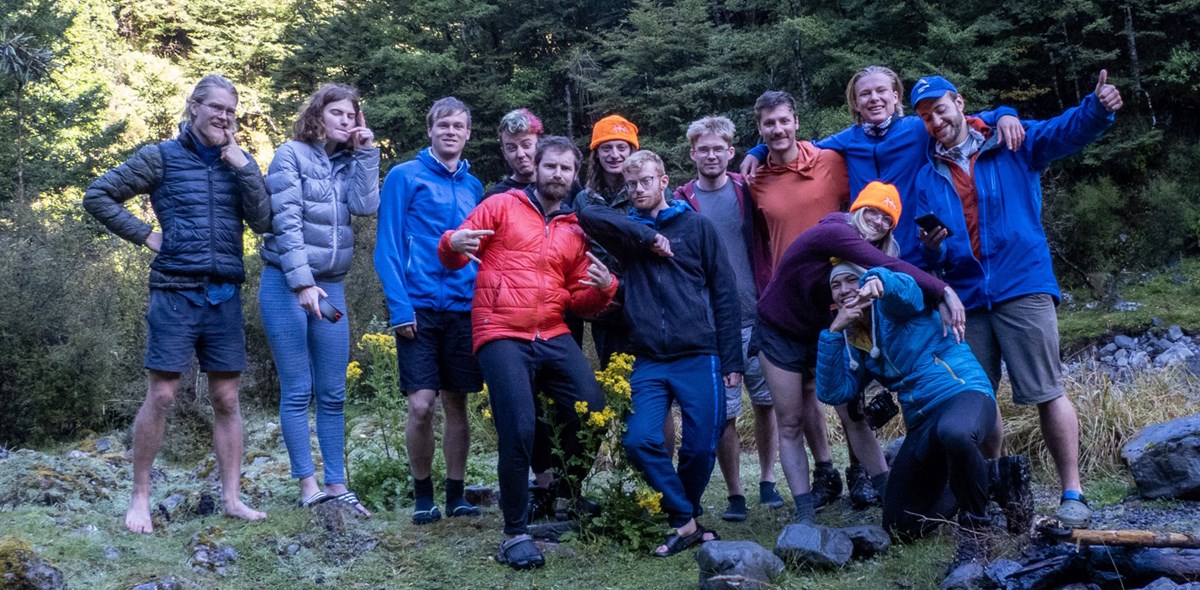 Easter weekend! That time of the year that every tramping club is keeping an eye on, thinking up ideas for a proper multi-day tramp to make the most of the *warm* weather before winter fully sets in. Thanks to 4 full days off in a row we can plan something a little more ambitious than the typical weekend.
This year the AUTC (Auckland University Tramping Club) and the VUWTC (Victoria University of Wellington Tramping Club) collaborated to plan out an Easter mission into the Ruahine Range!
For Wellingtonians the Ruahines are always just slightly out of reach, with quite a long drive and a ton of petrol to get up there, they are often too far to justify a weekend trip. So it's always an exciting opportunity to head up there and explore this amazing place.
The weather was far from perfect, the forecast was jumping around day-to-day and it looked like we were definitely in for rain, wind and cold temperatures. On arrival at the Renfrew Road carpark (about 3hrs from Wellington) we could already feel the wind and cold spitty rain rolling over the range towards us. We grouped up with the AUTC and got all the gear shared out, and headed off as one big group into the range.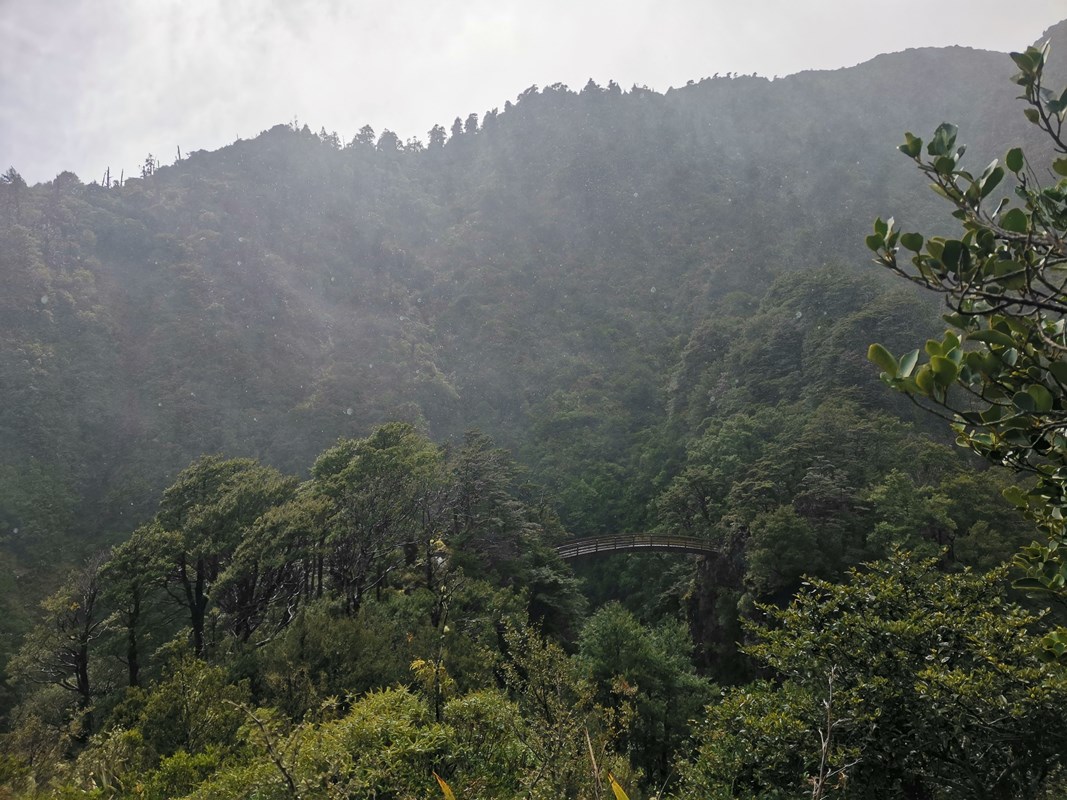 We crossed the first interesting landmark on the Rangiwahia Track, which is this little arch bridge that spans a pretty gnarly gorge.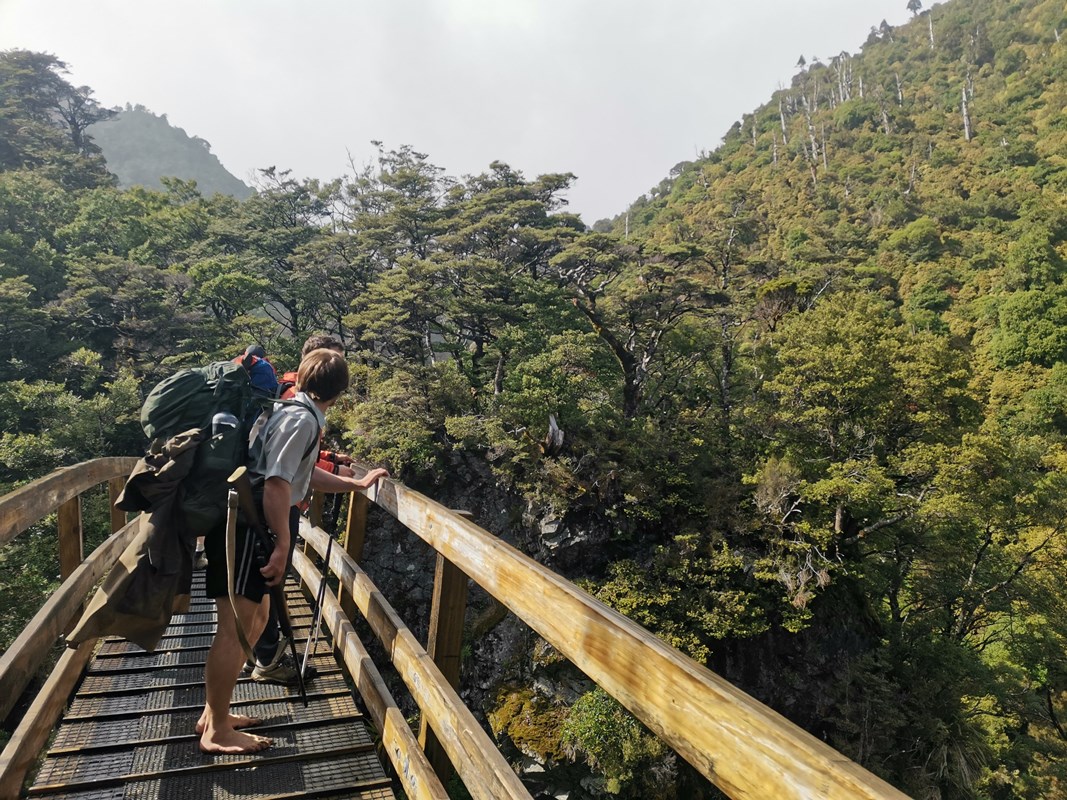 Shown here is one of the members of our group, Reinhard, who yes did in fact tramp in bare feet and old-fashioned gear, including a genuine WW1 rifle. Truly an inspiration to us all.
"Tramping the ranges with no boots at all"
Once we passed Rangiwahia Hut and started crossing the open tops, things started to feel much more like our home range in the Tararuas, with low visibility and freezing rain (which was close to sleet at times).
Our first destination was Triangle Hut, which we reached without any drama. We had some incredible food that night, including the club-trip classic nachos and a surprise desert of banoffee pie.
That banoffee pie was quite literally the nicest thing I've ever eaten in the bush!
The next day was the big event of the trip, we were planning to bush-bash up a spur then continue along a ridgeline to the peak of Te Hekenga, then on to Howletts Hut for the night.
Unfortunately (or maybe fortunately?) things didn't quite work out that way, and we ended up with a proper adventure full of important decision-making, keeping an eye on everyone's temperature, and eventually a chain of headlamp lights making their way though the bush after dark.
Firstly, we started the day with a bush bash. Lots of climbing up surprisingly steep contours, and we even brought out the rope a few times to help people through the steeper parts.The majority of the bush was quite pleasant, and this section was a hell of a lot of fun. Eventually we had to confront the bush edge, which for anyone who's been to the Ruahines before knows, means a thick wall of leatherwood. Lots of squeezing though non-existent gaps, where many a pack has been torn to shreds.
We hadn't quite hit the cloud yet, so here's a quick peek of the surrounding scenery: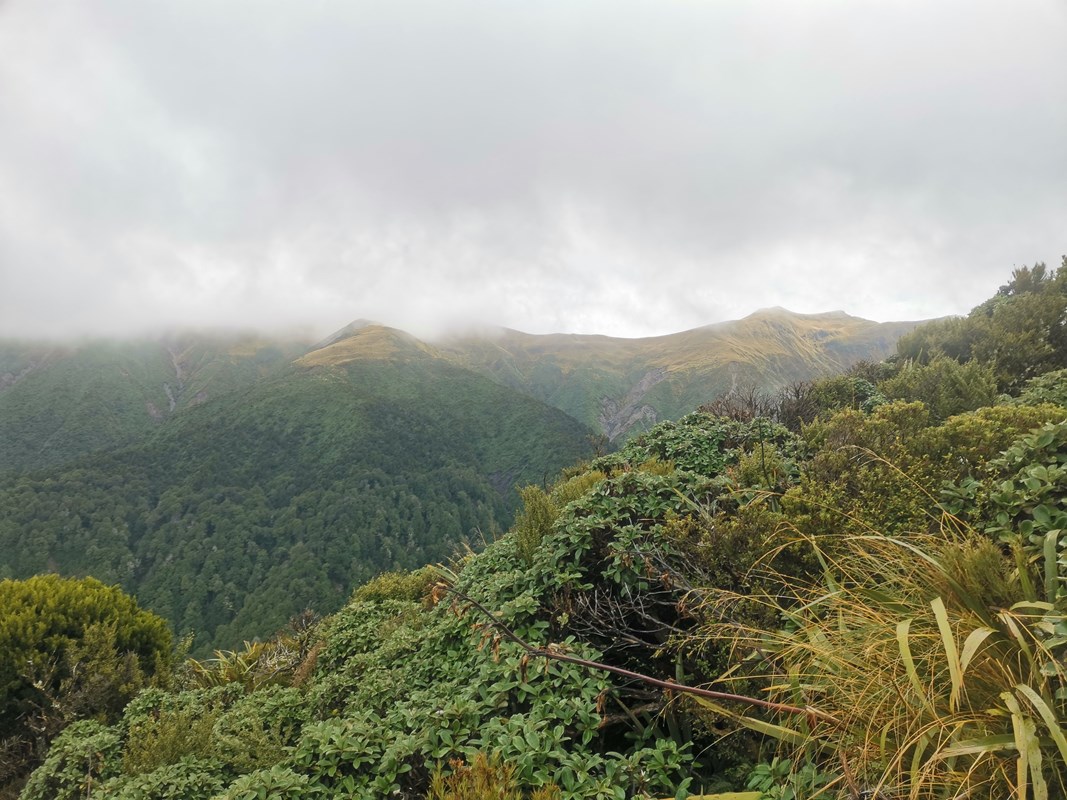 Next up: the ridgeline!
Travel became much easier once we left the leatherwood behind, and the ridge started off quite cruizy. As we progressed we got into some pretty exciting terrain, including some steep climbs and sharp ridges, all of which was shrouded in some pretty ominous cloud: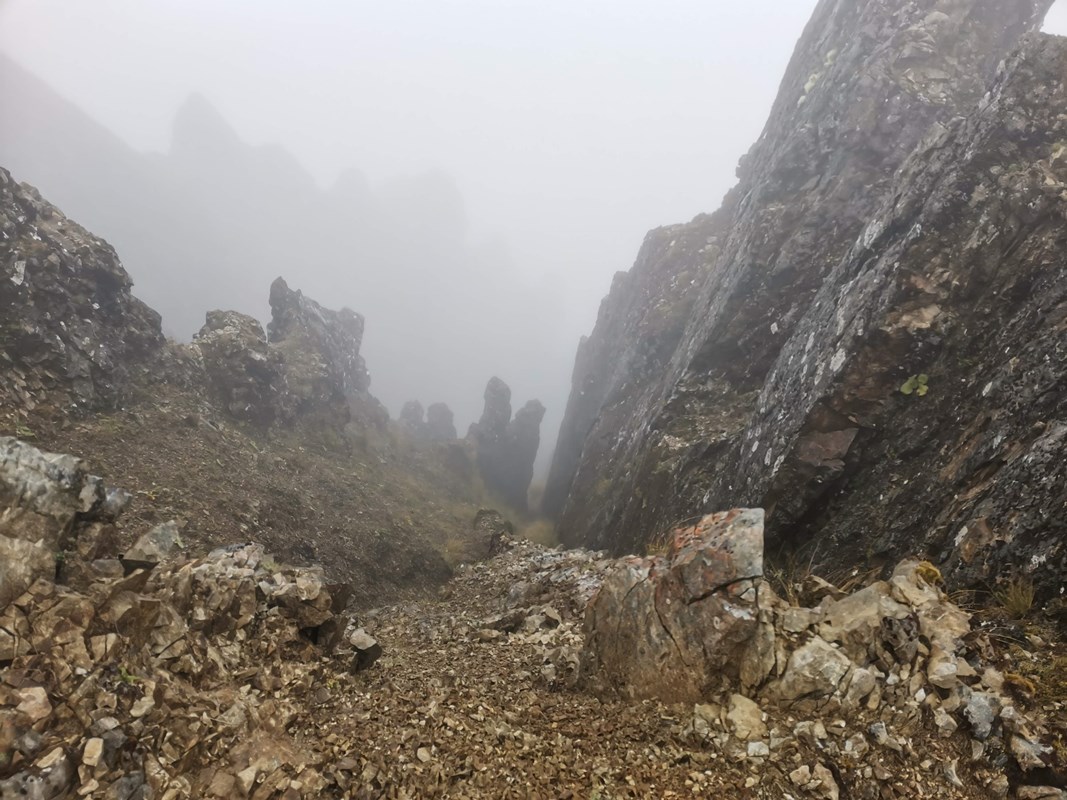 Yikes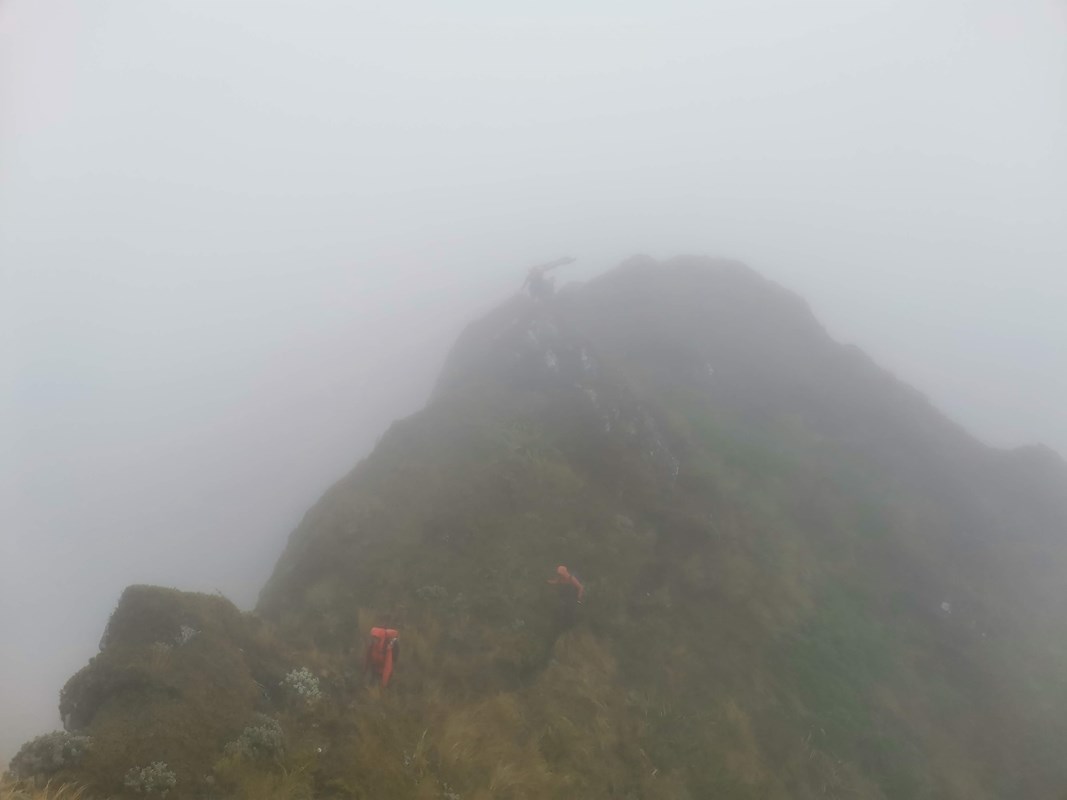 If you look closely, you can see an AUTC member sporting a cape (which has the AUTC logo on it!)
Eventually we reached the summit of Te Hekenga, and we were confronted with one hell of a ridgeline ahead of us. The terrain dropped right off, and grassy climbs turned into straight rock and scree. As people arrived at the summit and saw the view, many comments were heard:
"No way are we going that way"
"Holy shit"
"Surely that's not the way..."
"Nope, not a chance"
Well it turns out (after later research after the trip) that in fact wasn't the way, and there was a much lower sidle track that crosses a scree slope instead of following the main ridge line, but at the time we had no visibility and missed the sidle track by a mile.
We talked amongst ourselves and decided that it was way too dodgey to continue, considering the weather, visibility, terrain and how late in the day it already was. We had a ton of ridge travel ahead of us beyond Te Hekenga, and we didn't know whether it got easier or harder. I believe our decision was the right one, since we would have ended up following the wrong track (over very dicey terrain) and we would have spent another 3-4 hours on the exposed ridgeline, which was already getting colder as the day went on.
For perspective, here's a photo of the northern face of Te Hekenga which we would have likely ran into if we continued (without following the sidle track).
In fact reading about Te Hekenga after the trip I found it described as "The roughest non-volcanic terrain in the North Island", crazy stuff!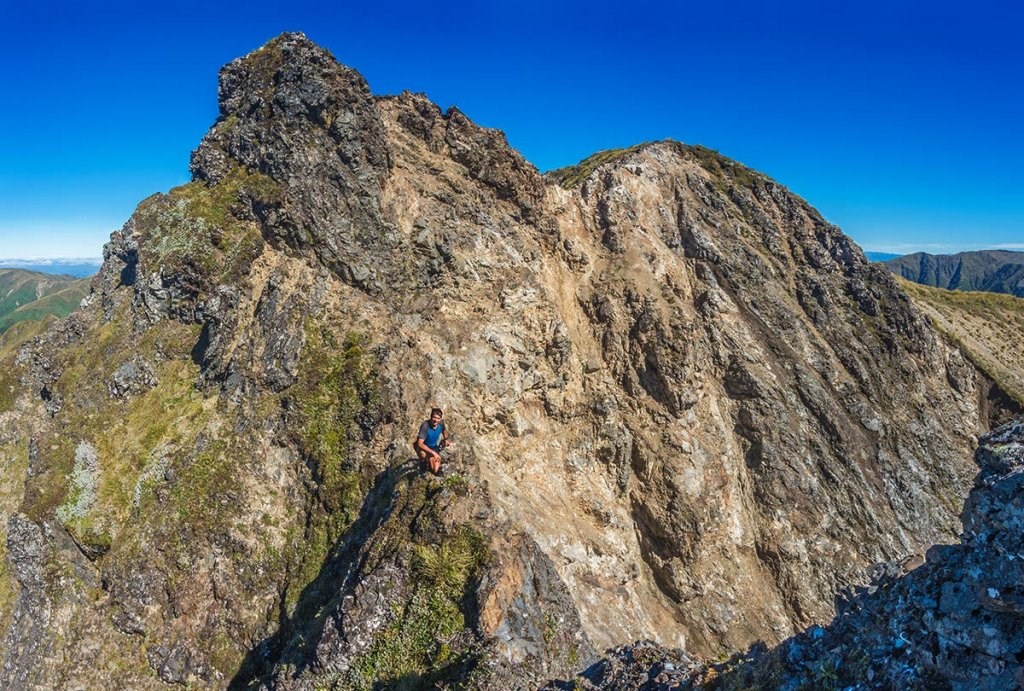 (photo by Peter Laurenson, more info in the article "Curves with teeth" in Wilderness Magazine)
So we went back the way we came, and eventually reached our beloved leatherwood shortly before the daylight ran out.
The next section was probably the "adventure" highlight of the whole trip, where we had to make our way back down the untracked spur in the dark. It started off ok, but almost immediately we all managed to get separated into about 6 odd groups, all calling out to each other trying to triangulate our position. Lots of bush-lawyer, vines, mud and more all made this situation almost comical, with everyone mere meters away from each other but completely blocked off. Eventually we managed to all regroup, and from then on decided to form a well organized chain. Much better!
Eventually all the head torches came out, and we formed a snaking line of lights through the bush. Those at the front deserve massive thanks for leading us all down the spur, though all kinds of wild terrain, including rock bluffs, chutes of loose soil, and the aforementioned bush-lawyer.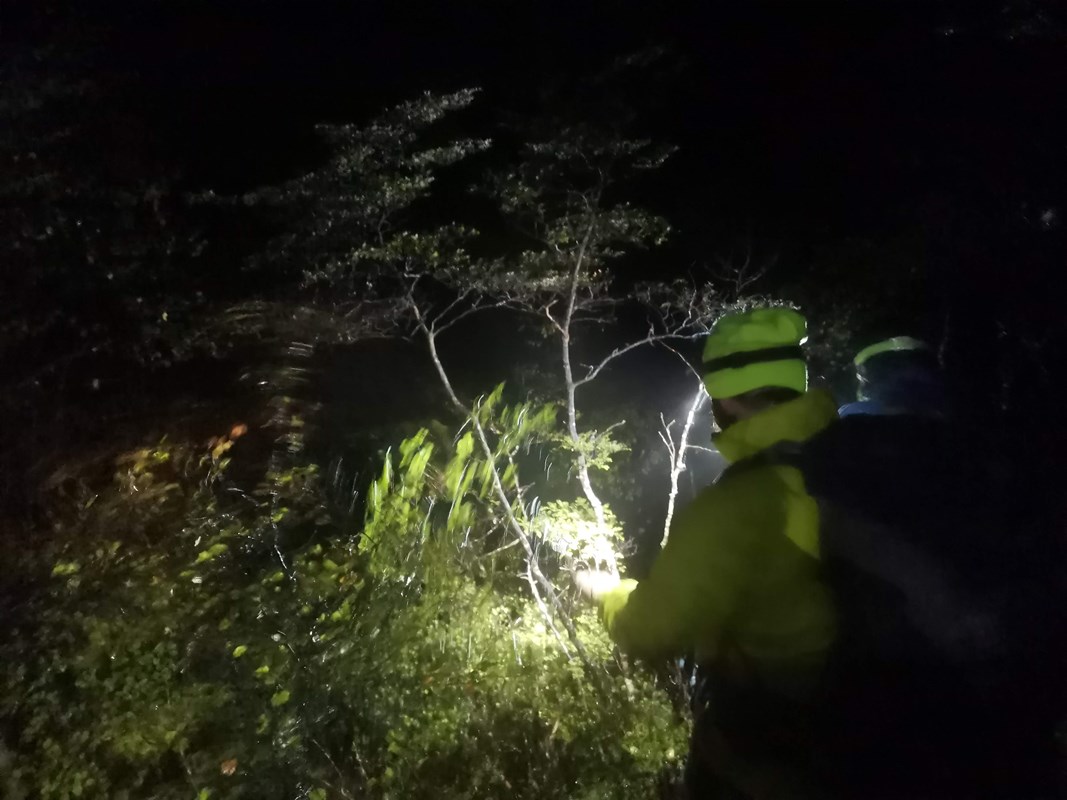 After a gruelling 11 hours, we slopped into Triangle Hut once again, soaking wet and coated in mud, all feeling very grateful to be back.
There was a couple and their two dogs already in the hut, so we undoubtably gave them a bit of a surprise when a group of 13 students show up a few hours after sundown, looking like we swam to get there!
We ate an ungodly amount of pasta in the toasty warm hut, and had a good think about how we were going to approach the rest of the trip, since our plan went a little off the rails.
For us VUWTC members, we decided that we could actually head out the next day and make our way back to Wellington a day early (and do some ridge travel on our one good day of weather!). Meanwhile, the AUTC opted to do a day of river travel to Iron Gate hut, and walk out the following day as planned.
We started out the day with a quick Easter Egg hunt inside the confines of Triangle Hut, then did a big group photo and said our goodbyes.
(Photo by Beryl from the AUTC)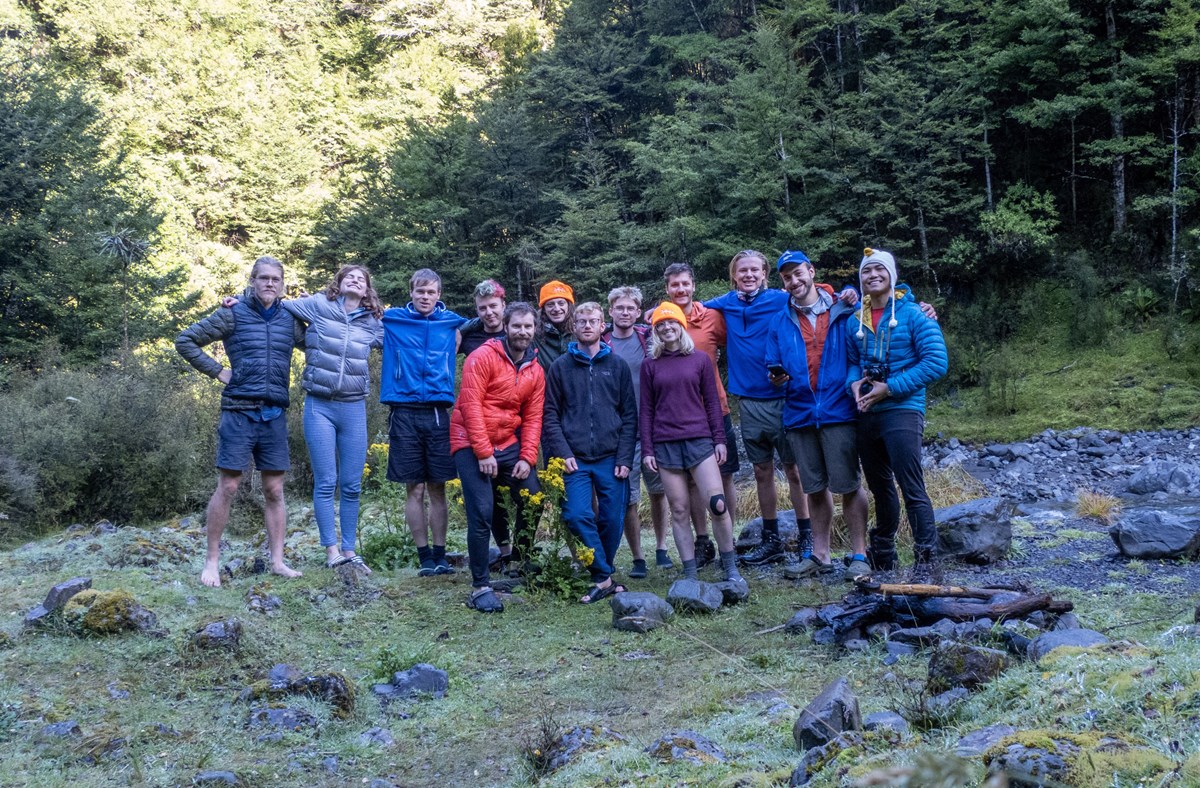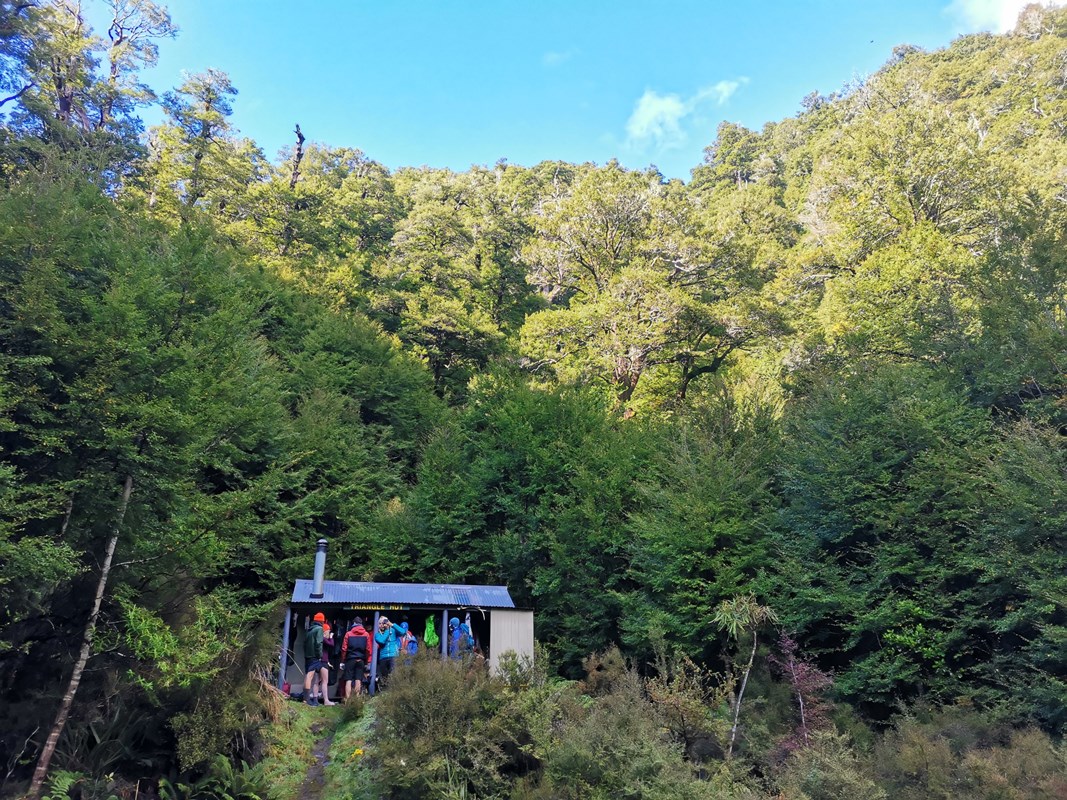 You'll have to go find a trip report by the AUTC members to find out how the rest of their trip went, but for us, we had a lovely day walking the open tops with absolutely spot-on weather.
We headed up the same track we walked in on, and enjoyed some beautiful Ruahine forest. The bush here feels completely different to the Tararuas, and all the bizarre wonky trees near the bush edge were a real highlight for me. So much variety and vibrant greens!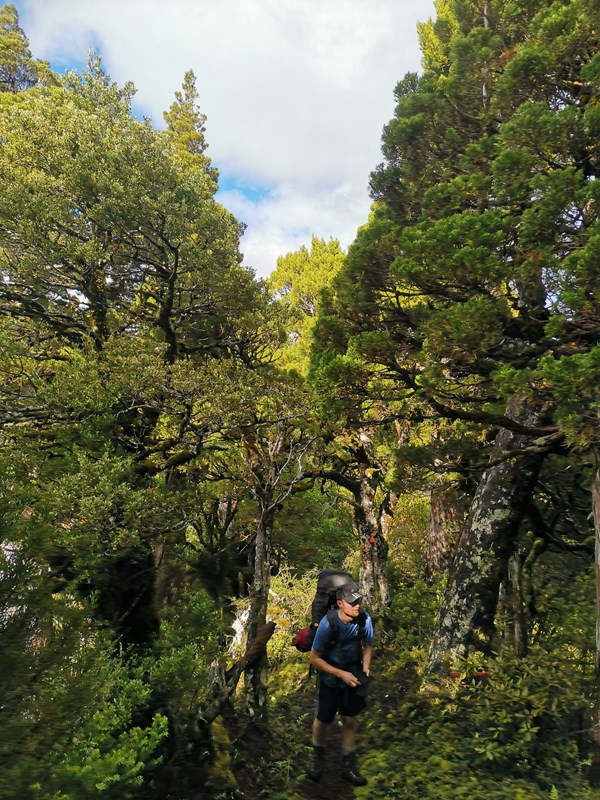 Once above the bush edge, we got to enjoy amazing views of the rolling tops and distant jagged ridgelines of the Ruahines!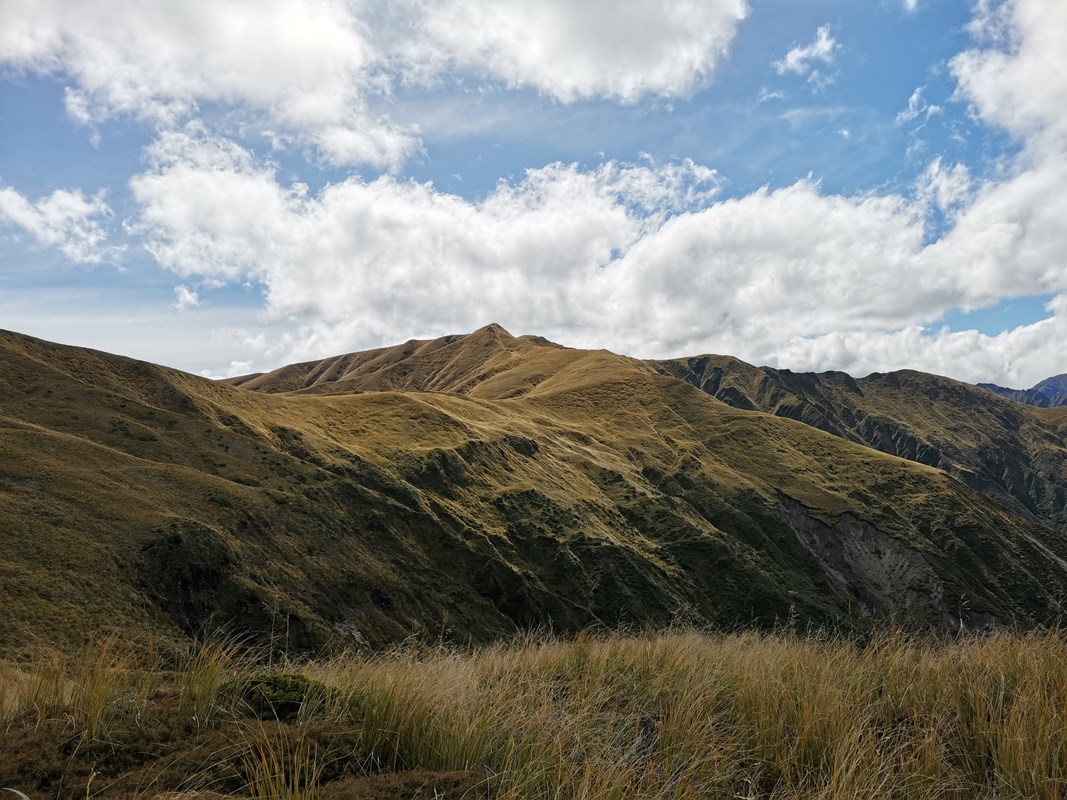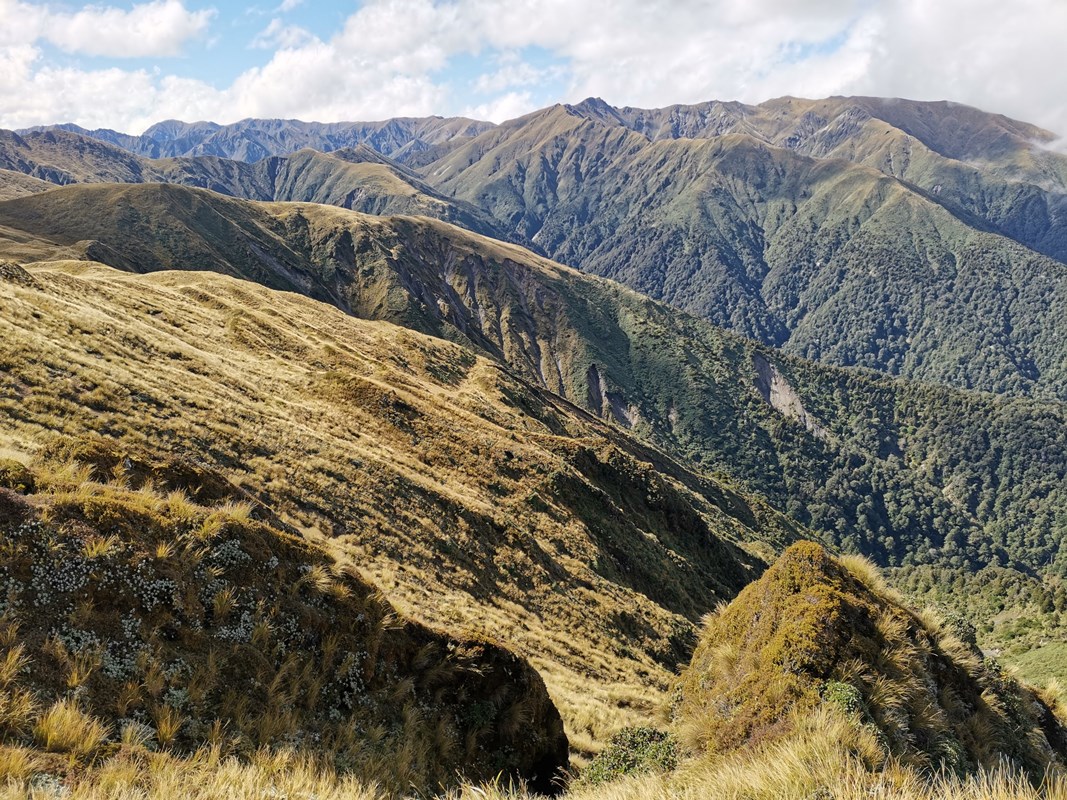 After all that time in the freezing rain, it made the sunny ridge travel all the more satisfying. This whole day was a nice chill wander though smooth tussock ridges, and a great reflection on the trip.
Our little VUWTC group continued on along the Deadwood track along to Mangahuia and back to Rangiwahia Rd carpark for a change of scenery (instead of going past the hut and arch bridge like on the way in).
Once you reach the bush edge the track becomes a huge wide & smooth path and makes for an easy stroll back down to the carpark. There's also some excellent camping spots around the bush edge with enough space for tons of people (maybe an idea for a future visit?).
The ridge across from us had the thickest layer of leatherwood I have ever seen. This photo should strike fear into any Tararua/Ruahine tramper: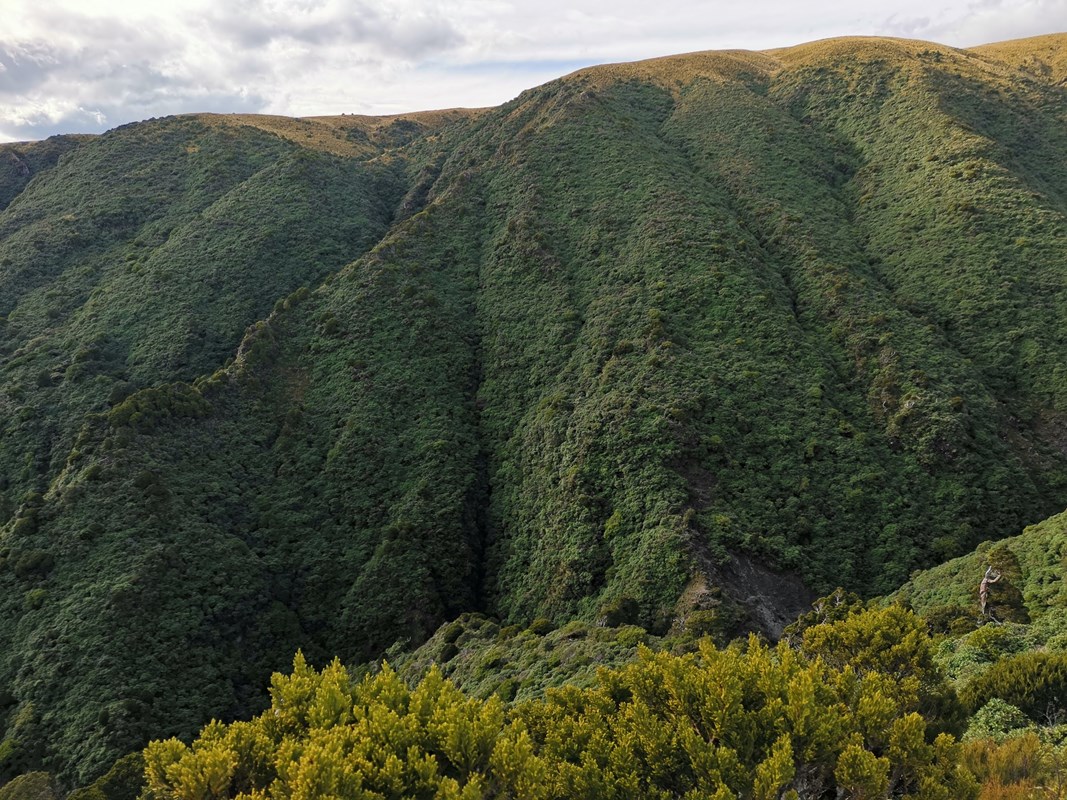 And that's the end!
We made it back to the car before sundown and even grabbed some takeaways on the way home.
On the way back we dropped Joe off in Palmerston North and enjoyed a chat with his family around the bonfire before continuing back to Wellington.
Overall this was an awesome trip, and a hell of an adventure. Tramping can sometimes make you really work for those great views, and push your endurance with adverse weather and long days. Even after a long day of rain, cold and mud, you can still look back and say it was 100% worth it and I wouldn't have it any other way. The Ruahines really showed us what they have to offer!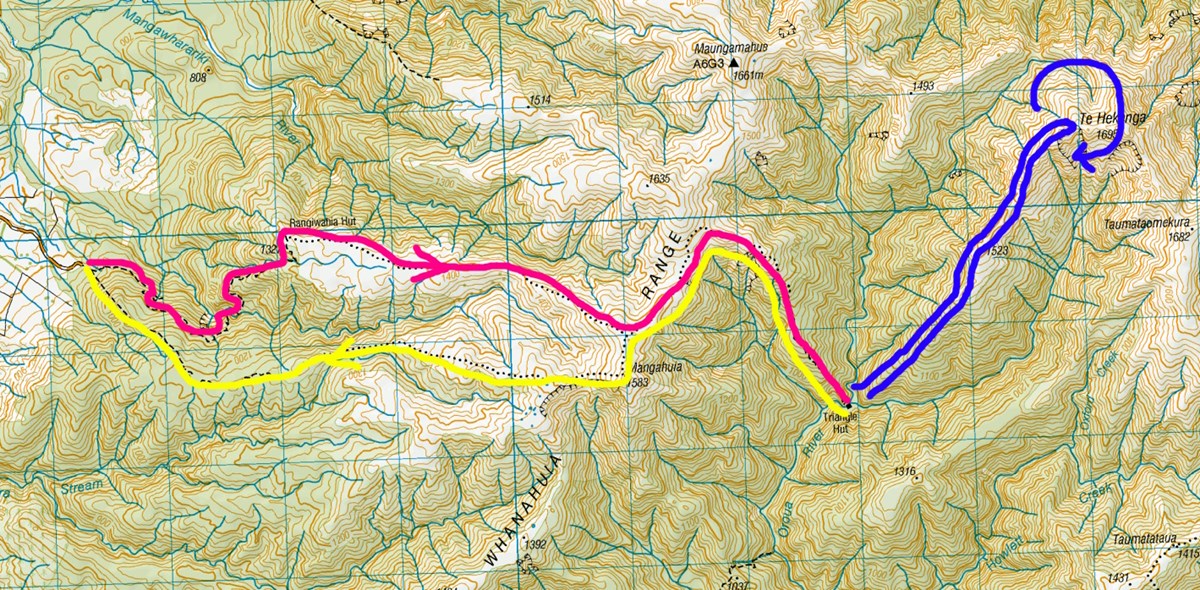 Some additional media, here's an amazing video and photo album by Beryl from the AUTC:
https://www.youtube.com/watch?v=q1sLaY8SaTI