By Justin Atkinson, 26 December 2022
I set off with Chris on Boxing day to the Pureora forest park to walk the Hauhungaroa Traverse. We had a special guest with us, Wayne Russell aka Chris' dad! We drive thrued at KFC Levin and sushied out at New World Turangi. Instead of driving east around the lake via SH1, we took the less travelled western route via SH41 and SH32. After a lot of effort to find a cool hidden lookout, we arrived at the Waihaha track carpark. Wayne decided to ditch us at this point, heading off to drive the last hour to Taupo for a couple nights stay.
While the carpark was not well marked, the actual trailhead was even less clear. We had to cheekily cross a bridge that clearly wasn't intended for pedestrians. At the track start, there was no sign or anything. It was just after 5pm and Waihaha hut was 3.5hr DOC time. Immediately the track was a little overgrown, but thankfully at this point it was just grass. Otherwise it was pretty chill.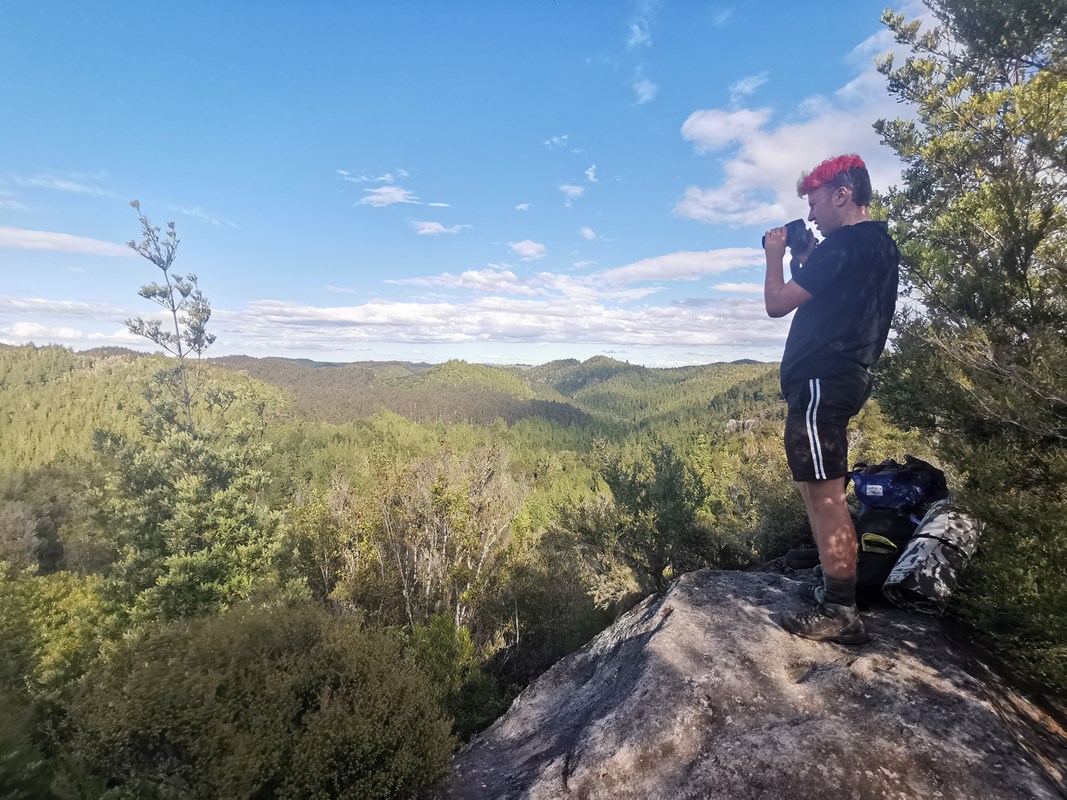 After 20min the track started to weave upwards. We stopped at a lookout so Chris could practice his photography skills. The path kept climbing, but eventually evened out. For the next 30min we crossed some open and flat terrain, which was a nice change from the upwards back and forth. It was pleasant walking in the warm evening sun.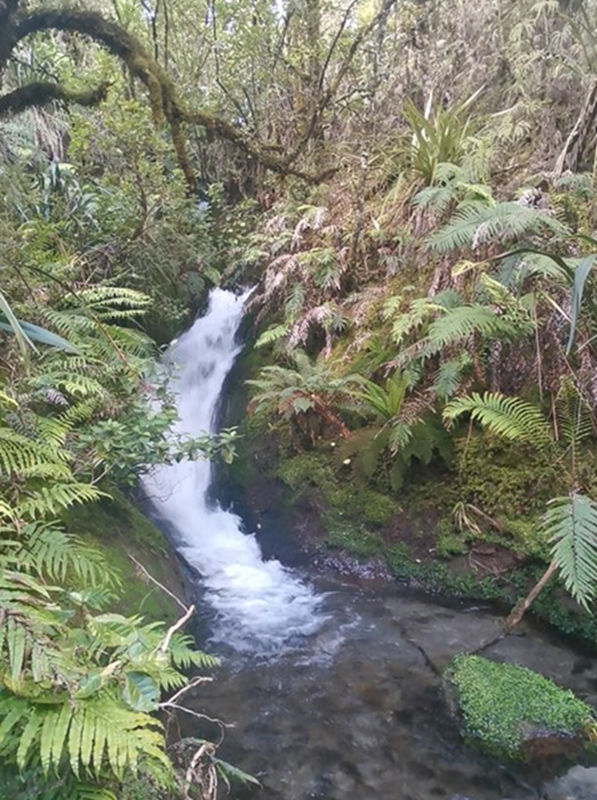 We discovered a cool little waterfall next to the track. We hadn't done any real bush bashing at this point, so we had a little explore. The big waterfall was the last in a chain of smaller ones. After losing each other, we regrouped and returned to the main track.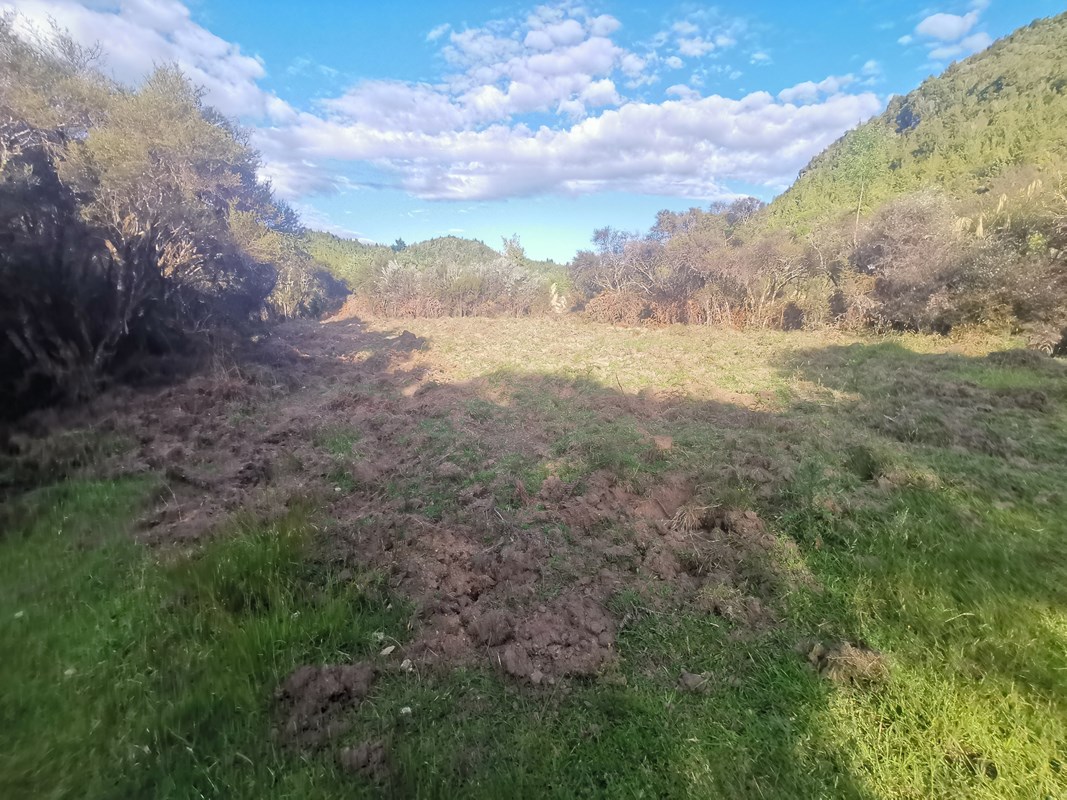 We shortly had our first encounter with one of NZ's favourite pests, the humble feral pig. While there were no actual pigs this time, they had left some damage to the track. Thanks heaps feral pigs! The track went through a nice short section of bush, before emerging with great views over a river. The river weaved between lots of weird rock formations. We climbed down a bit to get a better view, but as I'm great at scaling slippery terrain my feet gave way and I slid down on my behind. It was a bit scary but fun at the same time!
45min later we arrived at Waihaha hut, taking just under 3hr from the road end. While we had expected other hut users, no one was waiting for us. Nobody pulled a night arrival either, so we had Waihaha to ourselves. It was 8pm, so we unpacked our stuff and made dinner.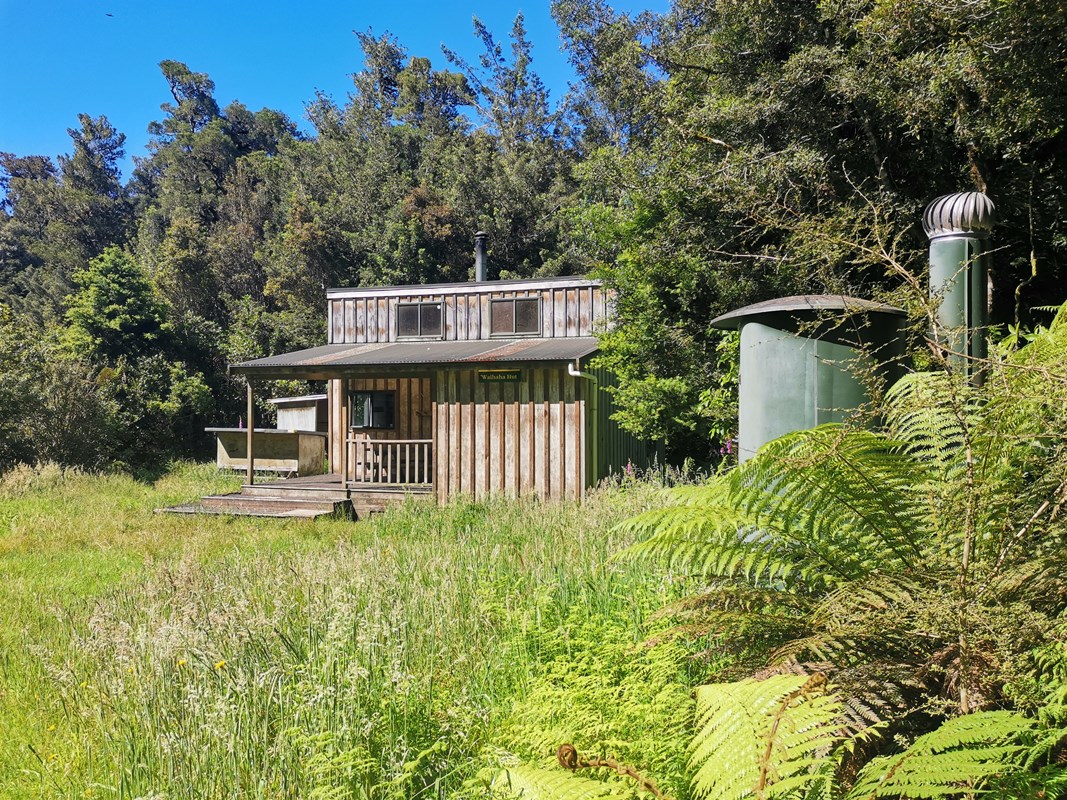 As it got dark, we lit some candles and chilled out with some chocolate and mixed nuts. It was Xmas the day before, so someone had left a cute little tree with a red milk bottle lid as a star, with pink ties and random badges as the decorations (including an Irish tap dancing group!) I was engrossed by some fascinating articles on Brexit, cults, VAR in football and Sir Robert Muldoon. Chris meanwhile decided to flick through the hut book.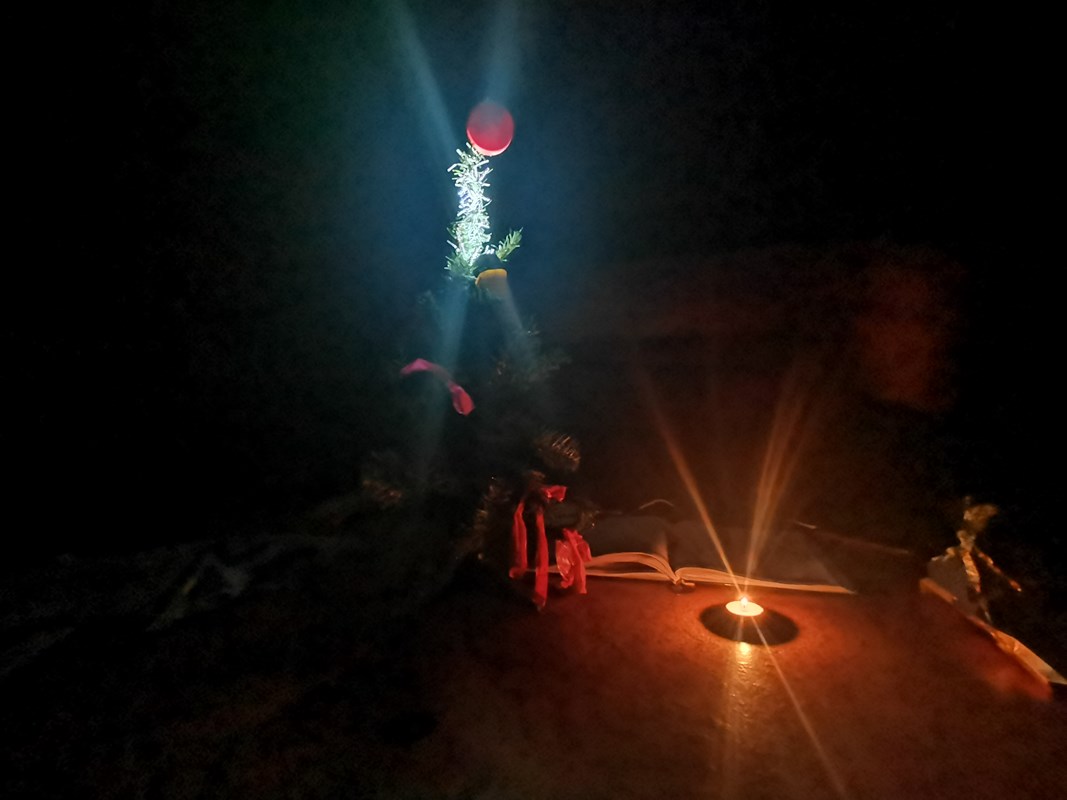 We were disturbed by a story where a random dude was spotted standing motionless outside the hut at 2am with no torch, taking a piss... (was probs a hunter, dunno?) Many people complained about the pig invasion force seen in the area. A dog called Lulu had once graced the hut with her presence. And someone got schooled by deer, so clearly everything happens at Waihaha... Another person in the hut book noted that there was a hidden glow worm cave 2min away by the nearby river. Faced with this incredible news, we set off after dark to find out if this was a cruel prank. Luckily our fears were unfounded, as there were indeed lots of bioluminescent helminths.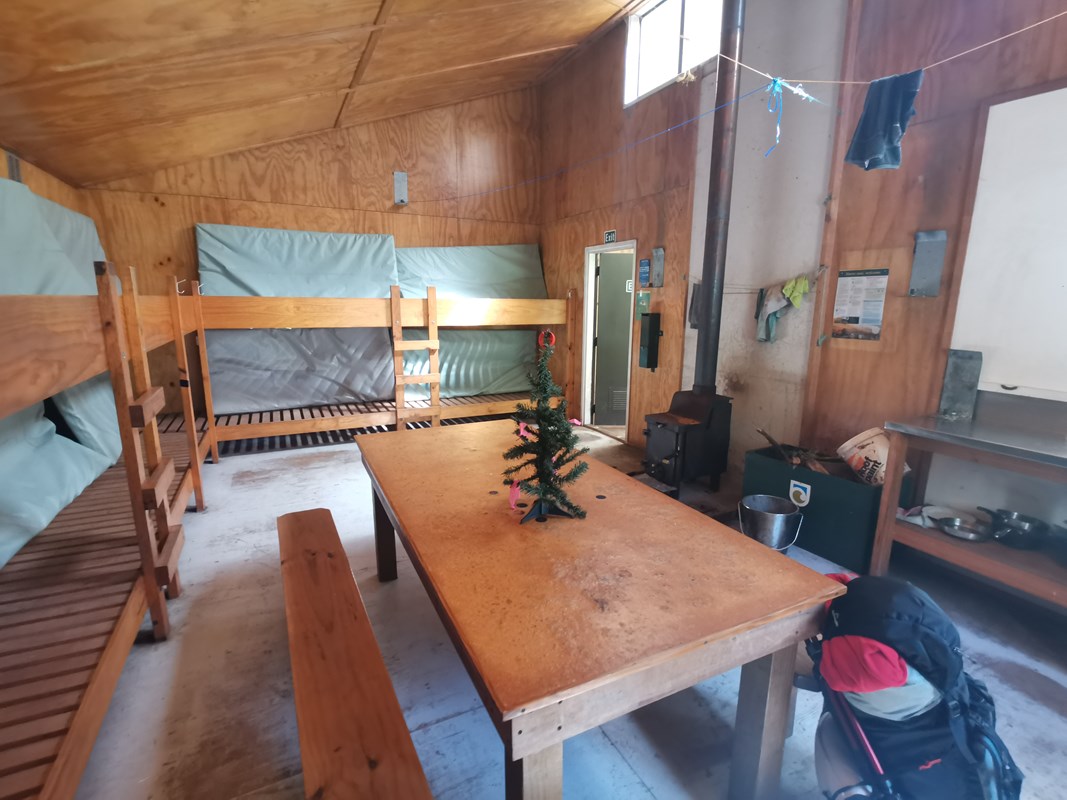 It's fair to say that day 2 was a step up, with a breezy 9hr to Bog Inn hut along the Hauhungaroa track. We had a chill morning, before bidding farewell to Waihaha at 10:30am. The track started off by crossing a nice flat section of forest, with plenty of openings where the sunlight peaked through. Eventually we reached some uphill, but at this stage it wasn't too bad. We quickly descended again, reaching a large stream just before 11:45am.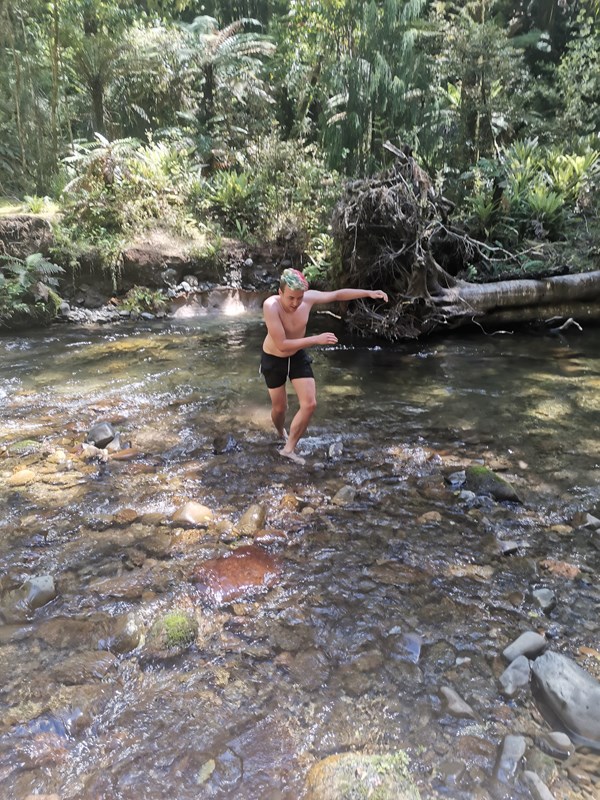 Chris tested the swimability of the water , and we refreshed our water supply. This was important, as there were few water sources today. I then spent a ridiculously long time attempting to find a dry route across the water, before giving in and removing my boots to cross.
We were briefly fooled that the day would remain easy going. Soon we traversed a long section of bush infested with a favourite thorn of the Kiwi tramper: the bush lawyer. They constantly attached themselves to various parts of my clothing and skin. I made frequent ow and ah noises as I escaped their thorny grips. These encounters resulted in many a cut. To my annoyance, Chris seemed largely immune. The track also became pretty overgrown. We kept losing both the track and each other, but always managed to unlose ourselves.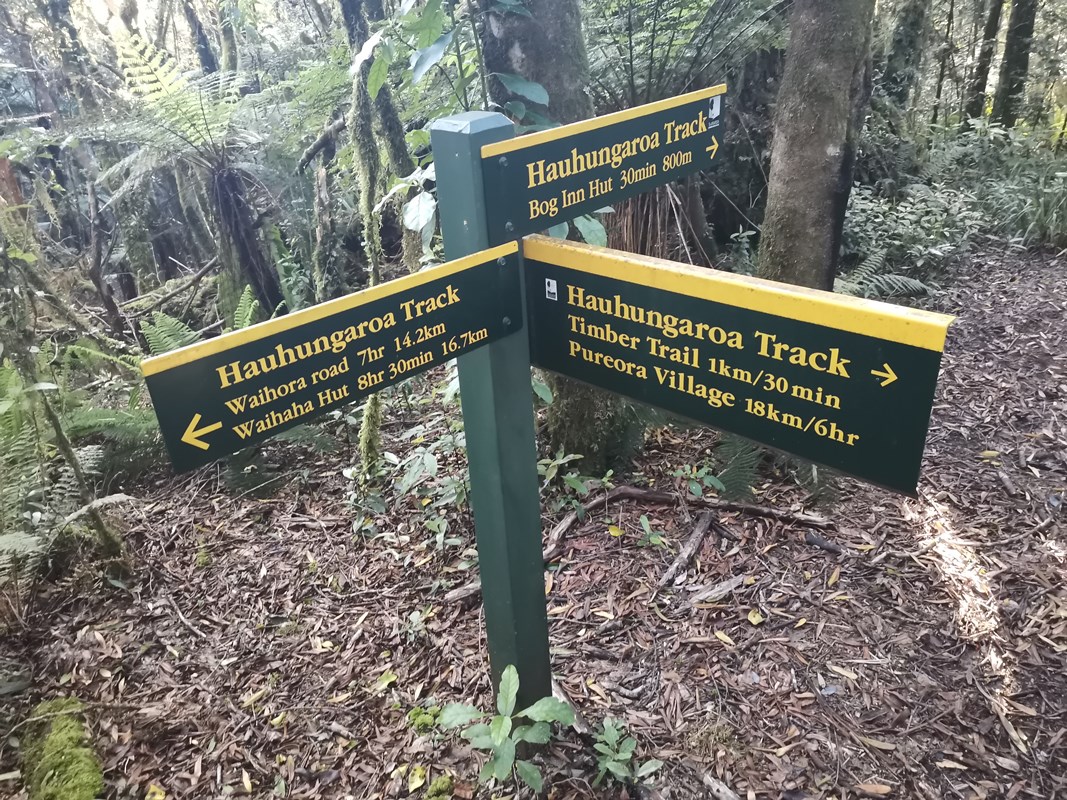 The track eventually straightened out and was pretty enjoyable to wander. We passed an escape route to Waihora Rd, which was an easy 2hr. We saw some more pig damage and even two specimens near the track, though they ran off when we got too close. We also passed some mossy and boggy sections, which got us in the right headspace for our forthcoming visit to Bog Inn hut.
As the sunlight faded, we kept seeing DOC signs promising a short wander, but the day seemed to stretch on forever. The terrain got increasingly boggier. It was about 7:30pm when we could hear talking and realised we had arrived. We had taken just over the DOC time of 9hr.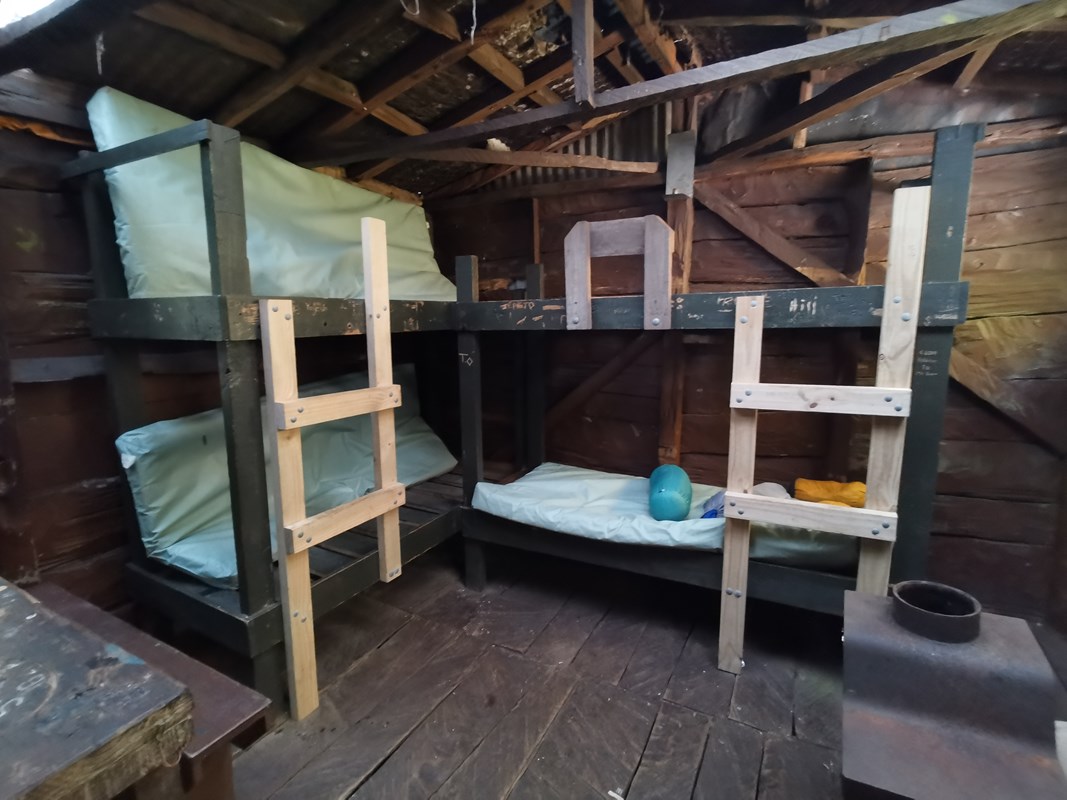 Since leaving Wayne, we had not encountered a soul. That radio silence was now broken. A Kiwi couple from Auckland/Tauranga and an American couple from Virginia greeted us, so it was nice to have some human contact. Bog Inn had pretty low visitor numbers, and was snug with 4 bunks. It used to have a working fireplace, but this was dismantled. Looking in the hut book, virtually all the guests had written "doing the Te Araroa trail" in the intentions section. We felt bad that few people actually came here just for Bog Inn, so we wrote "NOT doing the Te Araroa"!
We departed the next day at 9am to begin the 3hr trek to Link road via Mt Pureora, where Wayne would pick us up. After 30min of overgrown bush, we emerged onto the Timber Trail, which was a shared walker/cyclist path. Instead of taking the regular track up Mt Pureora, we decided to be mad lads and go up a steep and muddy track no longer maintained by DOC.
We popped out onto Mt Pureora from the bush, frightening a large family group who clearly hadn't expected two mad lads to emerge from nowhere. We'd had glimpses of Mt Ruapehu and some blue sky during our bush bash, but the views at the summit were something else. We could see for miles around, so we soaked in the incredible 360 degree panorama.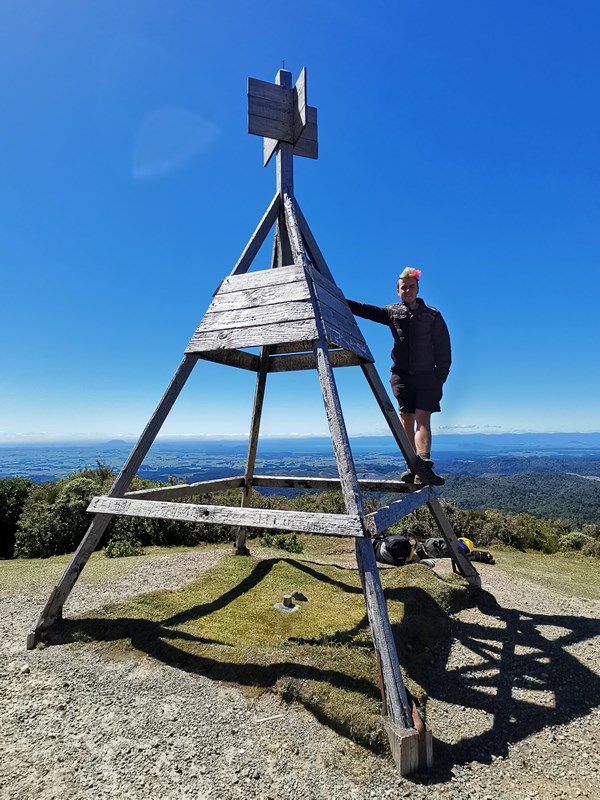 The strong signal allowed us to get in touch with Wayne, who was already on his way. It was another 45min walk to Link road. This final forested section was well maintained. There were plenty of stairs and lots of fellow walkers. We bumped into Wayne halfway up, and reached the carpark just after 12pm.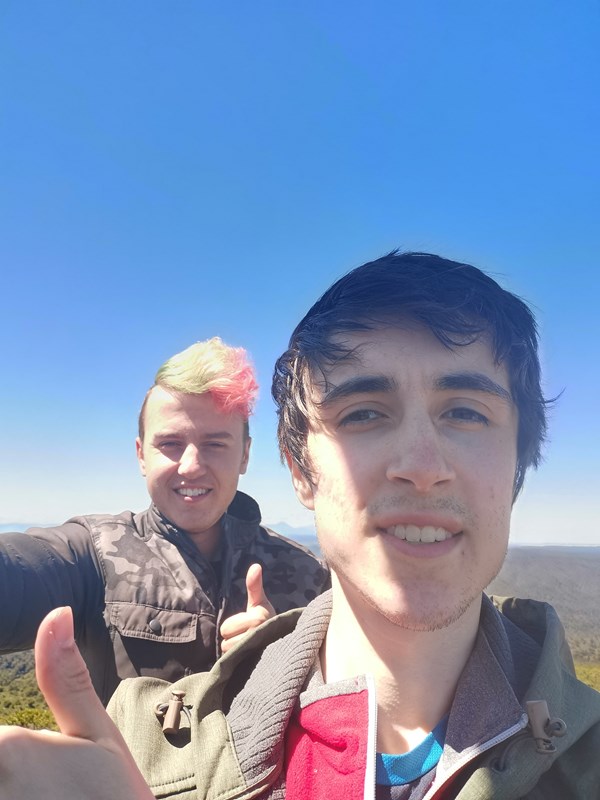 We stopped at the closest dairy where I filled my craving for a custard slice, before heading to Taupo. It happens that both me and Chris have family in the same part of Taupo. I got to hang out with my relatives for a couple hours, before going to meet some of Chris' family. Did I mention they had some mean fruit cake leftover from Xmas?!?
We left Taupo at 4pm. Reflecting on our epic post-Xmas trip, we had some good yarns and a few beers. We stopped over in Taihape for fish and chips. We all did our best to stay awake. We were rewarded with an amazing sunset when we got to the Kapiti coast. Reaching Welly just before 10pm on the 28th, we headed home for some well-deserved sleep.